Bring on the Bluebells
A Westcountry Wildlife Diary
It's May and the promise of long summer months whiled away alongside the river bank with a picnic and Frisbee is on the horizon. The days grow longer, the sunlight stretches further and specks of vivid colour are breaking through the greenery as wildflowers re-emerge from their winter rest.
The most spectacular of these early bloomers is surely the bluebell. In a matter of weeks, often visited riverside walks have become unrecognisable under a thick blanket of silky blue. With light streaming through the overhead trees and a faint smell of wild garlic in the air, the first sight of bluebells is a magnificent moment in any river lover's wildlife diary.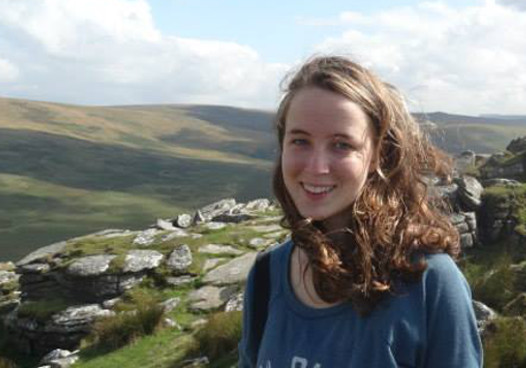 Elly Greenway
Evidence and Engagement Officer
Find out more about the work of Westcountry Rivers Trust...
The Best Places to See Bluebells
Bluebells can be found throughout the UK, most commonly in areas of native, deciduous woodland, although also appearing in our hedgerows and scattered across the countryside.
When it comes to favourite bluebell sites, there are so many to choose from: the woods alongside the River Fowey at Lanhydrock, Wembury Woods by the Yealm, the woods at Duloe by the River Looe Valley, Tarr Steps on the River Barle… but each of us has our own favourites.
What to look for…?
With bluebells often forming large carpets, they can be hard to miss when out exploring the riverside. But don't forget to look out for the odd bluebells that can be found here and there; individual bluebells can be recognised by their distinctive clusters of purpley-blue flowers drooping from delicate stems.
The biggest trip-up in bluebell identification is the arrival of the Spanish bluebell from mainland Europe. Having diverged into a separate species several thousands of years ago, the Spanish bluebell has been introduced to Britain, threatening our native species as it outcompetes it for resources. The Spanish variety can be set apart by its paler colours, scentlessness and more upright stems.
The Best Time to See Bluebells
Bluebells usually emerge in the Westcountry from early-April, lasting until late May. However, with changes to our climate, there are claims that the bluebell is beginning to appear earlier, blooming as early as February in parts of Britain.
A Little Bluebell Trivia
The United Kingdom is home to half of the world's population of the native common bluebell, although many fear for their future with the introduction of Spanish bluebells outcompeting and cross-fertilising them.
Over the years the bluebell has been given a number of equally poetic titles: wood bell, fairy flower, bell bottle…
If you're wary of folklore, give bluebells a wide berth; it's thought that these iconic woodland flowers are key to the spell casting of the fairies and goblins that dwell within the woods.
Other Westcountry River Stories