Walking the Exe: The Middle Reaches
A Westcountry River Story
This summer we will be following the adventures of Arthur Fuest as he makes his way along the  River Exe. Check in regularly to see what how he is getting on!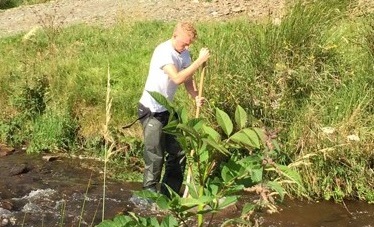 Arthur Fuest
Draining the moorland provides a considerable job for the Exe. With over double the national average rainfall falling on the upper reaches of the Exe and high-energy streams feeding the main river, it is amazing that, when the river valley widens and flattens, the river appears calm.
Following the river from Dulverton to Exbridge, the valley opens up to reveal rounded hills. As if with the change in geomorphology, the weather also changed and it began to feel like summer. To avoid walking along the fast A road that follows the eastern bank, I headed up and over the hill to Bampton, taking my time to savour the landscape and look back at where I had come from. The Exe valley contains some of the best restaurants in the West Country; when I arrived in Bampton I was treated to a sumptuous feast of smoked eel and a crisp white wine in the beautiful garden of Bridge House.
Walking that evening, I first discovered that the Exe Valley Way might not be all the pleasant country walking that Bampton had promised. Ten miles walking along tarmac took me within a couple of miles of Tiverton and as dusk came I realised that sleeping close to my path would prove difficult.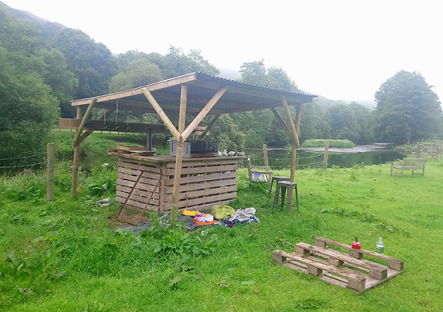 Campsite on the banks of the Exe just before Tiverton
After a few failed attempts I knocked on a farmhouse door and was welcomed by several barking collies followed by their owner. He kindly agreed to help me out and provide a field to sleep in. He showed me to a field on the banks of the Exe and whilst he was taking me round we chatted about the river and the life on it. I settled down just above a colony of sand martins and, as I went to sleep, I could hear the trout jumping.
Moving on in the morning it was striking how the river had matured. Wide pastures and long meandering bends made walking along the bank unrealistic. I headed up to walk along the crest of the hills lining the western edge. From here I watched the river snake between patchwork fields and chocolate box villages.
Although the Exe is profoundly beautiful, the pressures on the river are often evident, from the farming pressures, such as livestock in the river and intensive arable farming on the banks, to the storm overflow systems on sewage plants. The pressures of competing land use increased with the population density the closer to the coast I got. These thoughts made it seem further than the forty miles to the source and the remote hills of Exmoor.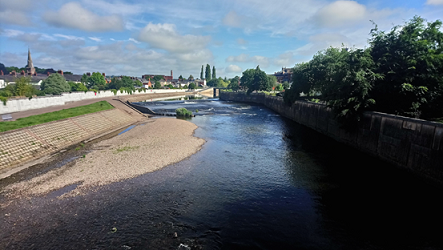 The Exe running through Tiverton
Find out more about the work of Westcountry Rivers Trust...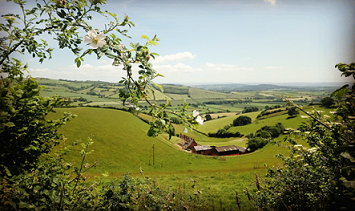 Rounded hills above the Exe
Other Westcountry River Stories