Get involved with your local river
If you love your local river, understand how vital it is to you in your life and share our passion for keeping it healthy for you and your community, then there are many ways for you to get involved.
Whether it's helping on a river clean-up day, becoming a river scientist, going on a river walk or simply making a donation, working together we can help your river for many years and generations to come.
Get Involved at Home
As we continue to adjust to COVID-19 guidance, we still want
to do our bit to keep you connected to nature.
We hope enjoy the activities we have created to help you relish time outdoors, embracing and caring for our natural world.
Citizen Science
We need you to help us help our rivers. Here at the Westcountry Rivers Trust we are passionate about our rivers and we know that you share that passion. We need your help to monitor our rivers in order to see which areas need our attention.
Working with business
We love to work with companies who, like us, are passionate about their rivers and environment. We work with business in myriad ways through our consultancy services and charity/project support. Working together with business not only helps us do our work, it also brings potential benefits to the business such as improved well-being for staff via engagement with the natural world, positive PR opportunities, and the knowledge that your business is working towards a sustainable and resilient future.
Education
When people come into contact with the natural world and learn the science of how it works 'hands‐on', they are more likely to recognise its importance to them and inspired to care for it. We work with schools, colleges, universities and anyone else of any age to help them learn about the vital role the environment plays in all of our lives. Check out our River Academy for our free to use resources.
Go Fishing
Our Westcountry Angling Passport Scheme offers fishing for wild brown trout, sea trout, salmon, grayling and coarse fish in unrivalled surroundings.  There are over 100km of riverbank to choose from. In addition to this, Westcountry Angling Passport tokens can be used at all of the South West Lakes Trust Fisheries and also on most of the other Passport Schemes around the UK.
Partnerships for Action
To secure the future health of our natural heritage and all of the benefits it will provide, local communities will need to work together in partnership to develop a shared vision for the future of their landscape. We are involved in seven of the Catchment Partnerships that have formed in the South West and would encourage anyone interested in rivers, water or their local environment to get involved with them.
How you help…
Whatever you do to help, whether it's becoming a river scientist, doing a river walk, fundraising or volunteering, it all helps us do our work.
Tell us how you want to get involved…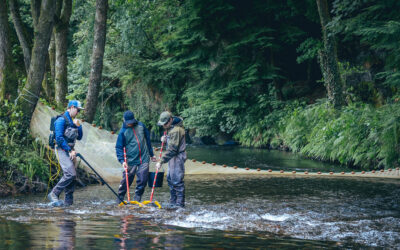 Photography and filming is a passion for some of the Westcountry Rivers Trust team, with many keen wildlife photographers and our Communications & Marketing Manager holding a Masters in Photography. It should be no surprise then that we jumped at the chance to...
read more