Electrofishing internship 2017 - a look back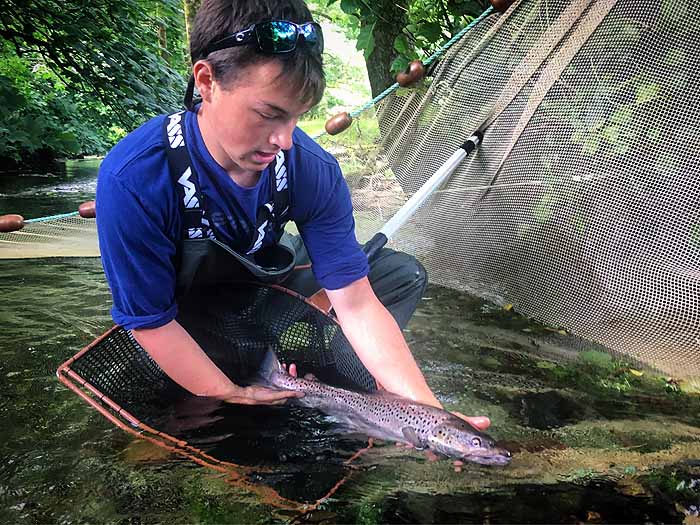 Sam Baycock
Electrofishing intern
Electrofishing internship 2017 – a look back
During the summer of 2017, Westcountry Rivers Trust took on 4 electrofishing interns. Here, Sam Baycock looks back at his time on the programme.
For most university students, it's all fun and games until you graduate. At this stage, you have to go out into the wider world and seek employment. However, not all plans come to fruition overnight and sometimes you need an extra boost to get that dream job. This was exactly where I found myself earlier this year. I needed something fisheries based to steer my career path into the world of fisheries science and conservation.
After being accepted on to the Westcountry Rivers Trust's Electrofishing Internship program, we were all sent off for three days of training followed by an exam. Now qualified, myself and the other three interns were assigned to catchments and set off to assist the WRT team on their electrofishing tasks.
I began with some fry surveys on the River Taw catchment. This involved electrofishing riffles looking for Salmonid (most specifically Atlantic Salmon and Brown Trout) juveniles. The data is used as a measure of spawning success from the previous year, and allows the trust to target areas which may require additional attention or even areas that have improved because of WRT's work!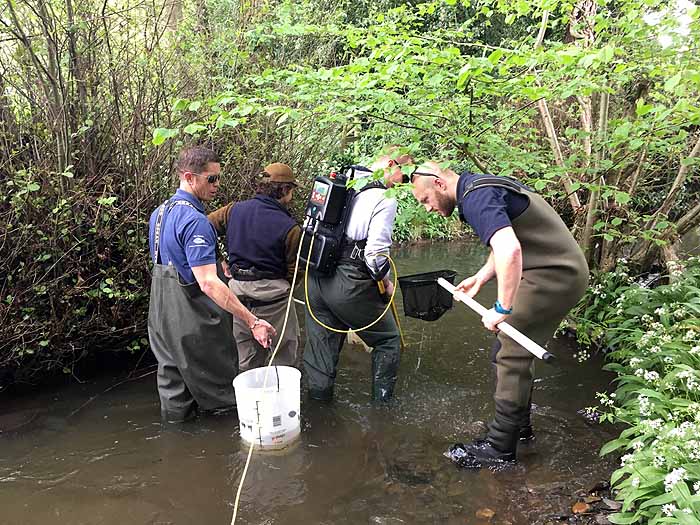 Next up was a fully quantitative survey on the southern edge of Dartmoor, collecting data following a pollution event. On this project I was introduced to different surveying techniques (the use of fully quantitative and semi-quantitative surveying) and got to use more equipment. Here we found plenty of surprises, from beautiful Brown Trout to some fascinating migratory Sea Trout. We even had time to use some invertebrate sampling kit, given to one of the interns after he completed his River Fly training.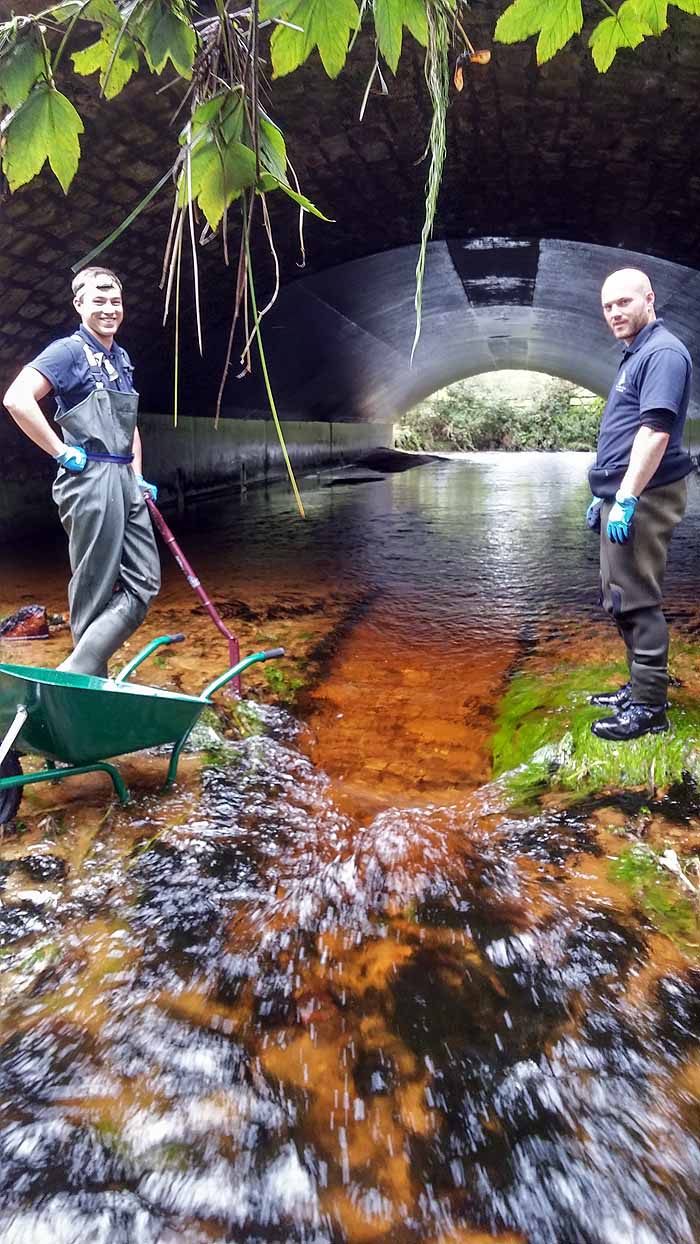 Later in the season I was asked to help with some fish passage work. A large part of protecting and conserving migratory fish species involves removing barriers to migration, aiding these amazing creatures on their annual mission to upstream spawning grounds. In this particular case, a low flow notch had gradually filled with sediment. A natural process, but one that would obstruct a migrating fish. On this day I learnt about engineering and construction within rivers, and I also realised that not all science has to be complicated. A few hours of manual labor saw the notch flowing freely again as we removed the material with nothing but shovels and wheel barrows. A very rewarding task!
At the end of summer, when most of the electrofishing was completed and things began to calm down. I was given a call to help out on some Eel surveys. Another species on the list, another survey and even more skills and experience to add to what has already been a packed season! For this survey I had to throw on a dry suit and deploy fyke nets around a weir pool. I was taught how to choose locations for the nets, how to deploy them correctly and how to survey a weir pool safely.
So as you can see, the Trust kept me very busy, and it was certainly worth my while! Overall I learnt so much from the passionate, driven and encouraging staff at WRT. Everyone was so keen to share their knowledge and wanted to get me involved in as many projects as possible. It really was the perfect way to gain the extra experience that I needed, which is so important in finding your dream job.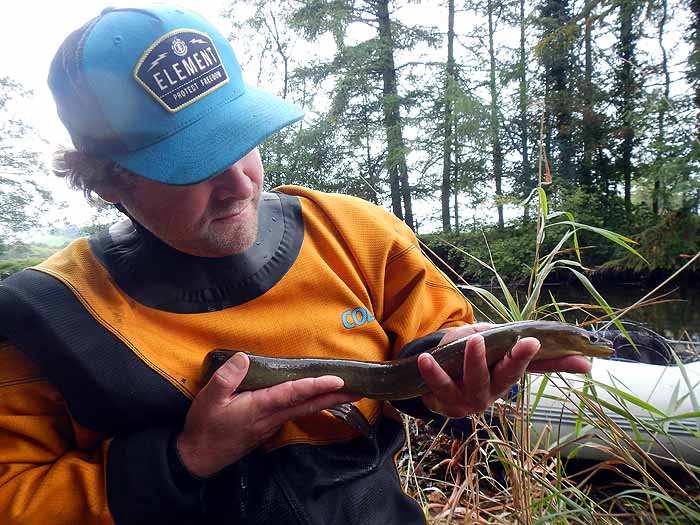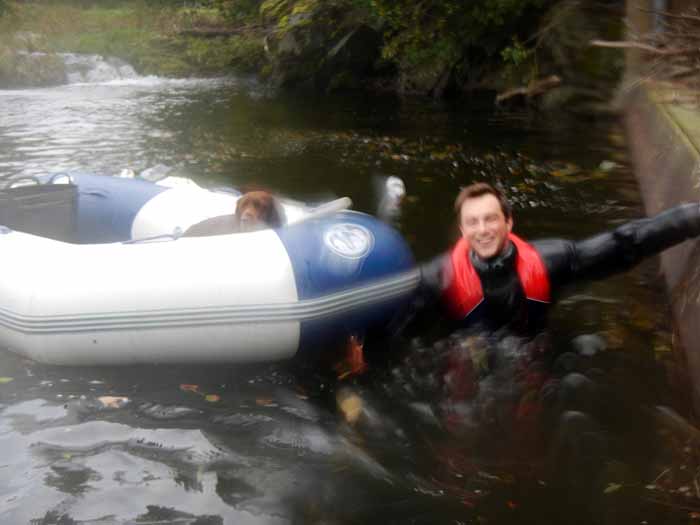 Find out more about the work of Westcountry Rivers Trust...
Other Westcountry River Stories