Each year during World Water Week, professionals and the public share ideas about how to tackle global water issues. The aim is to create a world where water is clean, respected and accessible.
For 25 years, our motto has been 'Bringing Water to Life' – not only by ensuring we can continue to access it easily and safely by protecting our rivers, but also by encouraging people to love their rivers and make them a part of their lives.
This year's theme for World Water Week is "Water for Society: Including All". 
Check out what's happening on a global scale at: worldwaterweek.org
We will be holding our first Water Resilience Summit on 12 September in Totnes. This day will provide people with the opportunity to talk about the issues that are detrimental to our water resilience, what are the solutions, and how everyone can do something to help ensure the Westcountry remains water resilient in the future.
Come along and join us. Find out more at: wrt.org.uk/event/2019-water-resilience-summit
You can also get involved in other ways to support your river.
Why not volunteer with us? Our Citizen Science Investigations project gives you the opportunity to care for our water environments in your own time.
Your financial support will also go a long way to keep us in the business of looking after the region's rivers, now and in the future.
Take a look below at the achievements in 2018 of our wonderful volunteers and staff.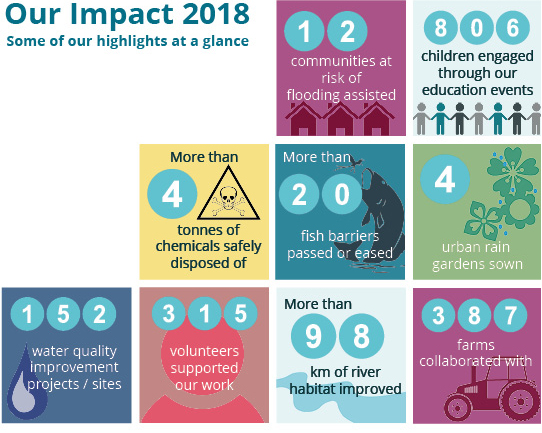 However you can take part and support us, it will be appreciated and valued. "Water for Society: Including All".