Be a Citizen Scientist with us
Join our leading Westcountry Citizen Science Investigations team and you will contribute to the resilience of our region's rivers, their habitats and wildlife.
For now and for future generations.
Hello. I'm Lydia and I coordinate our CSI.
Out fabulous community of #WestcountryCSI citizen science volunteers makes a valuable contribution to our work to protect
and restore the region's
water environments.
We hope you'll want to take part too. Email us via [email protected] if you have any questions.
Our Westcountry CSI aims are:
To educate and engage people with the water environment.
To produce data that can be used to target work and identify degrading water bodies.
To spot pollution events which can be dealt with as quickly as possible.
To create a network of catchment communities that are invested in their local environment
Watch a Message About Taking Part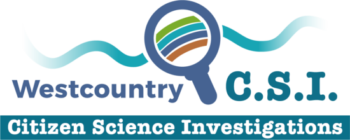 Active Volunteers Since Jan 2020
SURVEYS completed since Jan 2020
The rivers and streams running across the South West are important as a resource for humans as well as providing habitat for a variety of wildlife.
But constant pressure from people on these waterways can cause negative consequences on the rivers' ecosystems. This in turn creates unnecessary expense when turning the water from them into clean drinking water.
By engaging, and sharing our knowledge with communities in the Westcountry, we aim to build our network of Westcountry CSI volunteers, developing credible and competent custodians of the watercourses.
Collecting regular water quality samples not only produces good data, which we can use to identify areas of concern, but also enables the citizen scientist to get to know their river, helping to identify positive and negative changes and influencing action where needed. 
"It's important to monitor our rivers; they are such a vital habitat but vulnerable to pollution. I learn from taking part and feel I'm making a difference while seeing things I might otherwise miss."
When you support our work as a Westcountry CSI volunteer, you will be helping to look after our region's rivers, their habitats and wildlife, and our water resource. 
You can monitor your river for a variety of reasons such as problem plants to pollution.