The Westcountry Rivers Trust returned to the Cornwall & Devon Countryman's Fair this month, and this time as the main beneficiary chosen by the Committee, as this event donates to a number of local charities. This ever popular biennial event welcomes thousands of locals and visitors alike to celebrate traditional country pursuits and activities – with a timetable of attractions in the main ring and a wealth of trade stands to browse.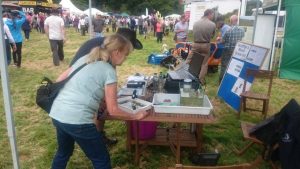 Held in the stunning grounds of the privately owned Werrington Estate near Launceston, appropriately for the Trust this valley has a large ornamental lake to one side and the River Ottery flanked by woodland to the other.  The main stand for the Westcountry Rivers Trust had a prime position in the middle of the showground, which provided the opportunity to chat with some familiar faces and meet lots of new ones.  The displays provided a glimpse into the breadth of work undertaken across the region such as land management, fisheries improvements, education at all levels and community engagement.  The Ottery being a tributary of the Tamar, this area is one of the key catchments for the Upstream Thinking project working with farmers to protect watercourses whilst delivering economic and environmental benefits.  The displays also drew excellent interest in Citizen Science; encouraging individuals and communities to become more involved and connected to their river, to support and contribute to environmental or ecological monitoring acting as local knowledge and helping to shape future activity.
Fisherman's Row brings together local clubs and experts alike. Fisherman's Row was extremely well attended this year with anglers getting the latest information on the local fishing scene on our river, streams and lakes.  They could also try their hand at fly tying, discuss conservation with Salmon and Trout Conservation UK and the Westcountry Rivers Trust or take in one of the expert fly casting demonstrations.  In addition, over 60 people tried their hand at fly casting or coarse fishing under the guidance of a licenced angling coach.
Westcountry Rivers Trust are grateful to the organisers and committee for their support and received lots of promotion on the day by the commentators, which boosted visits to the stand.  In the best traditions of country shows it was a perfect summers day with lots of activities offering participation, opportunities to meet friends old and new, and enjoy the displays in the main ring. Initial feedback suggests a record breaking attendance in excess of 5000; good news all round!