As proud supporters of The River Trust and Westcountry Rivers Trust, Barnstaple-based craft door and cabinet hardware makers Turnstyle Designs made a donation to our The Big Give Green Match Fund fundraiser as part of our Bringing Rivers to You summer campaign.
This campaign is dedicated to connecting people to, and inspiring a love for, their freshwater environments whether rural or urban through a variety of community events and activities.
A few members of the Turnstyle Designs team joined our CEO Dr Laurence Couldrick on a drizzly summer day at Wistlandpound Reservoir to find out first hand about our river-related conservation efforts.
ABOUT WISTLANDPOUND RESERVOIR
The team set off in their waterproofs and wellies in hunt of the nearest water source running into the reservoir.
The area is a thriving environment for wildlife and a popular spot for many dog walkers and families, Wistlandpound is located on the edge of the Exmoor National Park.
Managed by South West Lakes Trust the reservoir was built in 1957. It holds up to 1,550 megalitres (341 million gallons) and covers an area of 40 acres, supplying water to a large section of North Devon.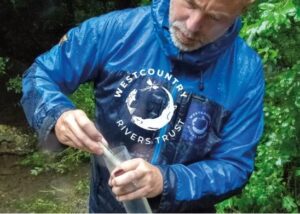 After a short walk around the reservoir, lead by Laurence, a small stream was found and samples of river water were taken and tested. Using water quality testing kits, the team checked the colour, temperature, and turbidity for traces of mud or other matter and any harmful elements or high readings.
Oscar Roberts, MD, Turnstyle Designs said: "I'm very appreciative of Laurence taking the time to show us around Wistlandpound Reservoir.
"It gave us all a much deeper insight into the vital work the Westcountry Rivers Trust are carrying out – their holistic approach to people and problems is brilliant to see."
To read more from Turnstyle Designs, visit turnstyledesigns.com/the-westcountry-rivers-trust-wistlandpound