Consultation into the creation of a new 90-mile section of the South West Coast Path, reaching from the South to the North Coast of Cornwall via the Tamar Valley Area of Outstanding Natural Beauty (AONB), is underway.
The project, which forms part of the Tamara Landscape Partnership Scheme, funded by The National Lottery Heritage Fund, aims to join together existing rights of way in the Tamar Valley to create a footpath which broadly follows the River Tamar and establishes a new circular walk around the coast and county boundary of Cornwall.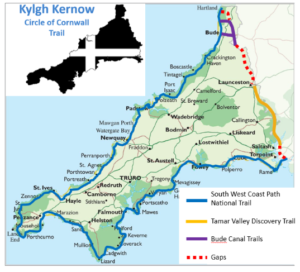 Dan Cooke, manager of the Tamar Valley AONB said:
"This is an exciting phase for the proposed Cornish coast to coast footpath, and we'd love to hear people's views on its route and how it can best be promoted.  If all goes to plan, then this could be another great way to enjoy some of the most stunning views and hidden corners of the South West."
Visitors will be encouraged to sustainably explore the Tamar Valley AONB, a hidden jewel in the South West. The proposed new trail will run through a special and protected landscape defined and shaped by the rivers Tamar, Tavy and Lynher, and by the human activity focused around them. The area is famous for its mining heritage landscape and market gardening history and is a haven for wildlife.
Malcom Bell, Chief Executive of Visit Cornwall said:
"We all know how many people love Cornwall and our greatest asset for both local residents and visitors is the coast and our amazing coastal path, so what could be even better that – well the proposal to increase the path by 90 miles by linking our two world-class coasts through the stunning and intriguing Tamar Valley, which is so rich with beauty and history."
Partners of the Tamara Landscape Partnership Scheme, including Cornwall Council and Devon County Council have worked together with the help of external consultants Countryside Creation Services to develop the proposal.
Martyn Alvey, Cornwall Council cabinet member for environment and climate change said:
"I welcome this initiative which will encourage more of us to get out and enjoy this part of our beautiful Cornwall. The route is designed to pass through many places rich in natural or man-made heritage, with close proximity to the river and offering an abundance of historical and wildlife interest. I encourage everyone to get involved and have their say."
Members of the public and other interested parties have until the end of March to feed back their views. More information and the consultation report can be found here: www.tamaralandscapepartnership.org.uk/tamara-coast-to-coast-walk
The Tamara Landscape Partnership Scheme aims to create a brighter future for the Tamar Valley and its communities by working with farmers, landowners and communities to manage and enhance landscapes that are rich in wildlife, as well as cultural and historic heritage; to help improve access to special places and to promote ways for people to enjoy the landscape whilst improving their health and wellbeing. With match-funding commitments from other partners, the total to be invested across the Tamar Valley landscape until 2025 will be £3.2 million.
ENDS
Tamara Partnership Scheme
Key funders are: The National Lottery Heritage Fund, Cornwall Council, Devon County Council, Environment Agency, Historic England, the AONB itself and the Woodland Trust.
Partnership organisations: Battling On, Cornwall & West Devon Mining Landscape World Heritage Site, Cornwall Council, Cornwall Wildlife Trust, Devon Biodiversity Records Centre, Devon & Cornwall Rail Partnership, Devon County Council, Environment Agency, Environmental Records Centre for Cornwall & Isles of Scilly, Forestry Commission, FWAG (SW), Historic England, National Trust, Natural England, Plymouth Community Homes, South West Coast Path Association, Tamar Grow Local, Westcountry Rivers Trust, Woodland Trust
Key projects of the Tamara Landscape Partnership Scheme include:
Apprenticeships and internships to improve job prospects and to provide support for local businesses
Advice and grants for farmers to reinstate landscapes and maintain traditional skills
Community allotments with training opportunities and reintroduction of heritage varieties
Social prescribing, including walking, running, art and bush craft
Opportunities and support for local businesses as the Tamar Valley strives to become the destination for a low-carbon, sustainable holiday
Benefits for walkers as the Tamar Valley Discovery Trail will be extended to reach the coast
About The National Lottery Heritage Fund:
Using money raised by the National Lottery, we Inspire, lead and resource the UK's heritage to create positive and lasting change for people and communities, now and in the future. www.heritagefund.org.uk.
Since The National Lottery began in 1994, National Lottery players have raised over £43 billion for projects and more than 635,000 grants have been awarded across the UK.