'Water-Aware Grassland Weed Control' was the title of a farmer event recently organised by Westcountry Rivers Trust, on behalf of the Upstream Thinking Project. The aim of the event, held on 19th October at Great Cator Farm courtesy of Mr David Reddaway, was to highlight the ways in which farmers could reduce the risks of grassland sprays reaching watercourses. The Upstream Thinking Project (UST) is funded by South West Water to improve the quality of the raw water in the River Dart, which feeds Littlehempston Water Treatment works at Totnes (UST is also on the Tamar, Otter, Fowey, and Exe).
Partners in the project are Westcountry Rivers Trust and Devon Wildlife Trust, the Wildlife Trust brought along their LOGIC Weedwiper to demonstrate, and to aid discussion on the control of rushes and other weeds, such as docks. The technical content of the day was delivered by Neil McLean and Simon Rollinson of AGRII.
Top tips include:
Stay legal – Sprayer must be MOT'd by 26th Nov 16, operators should be qualified, complete the Integrated Pest Management Plan (www.voluntaryinitiative.org .uk).
Avoid spraying in the first place! Use other techniques such as Regular topping, avoid compaction, poaching and over-grazing, spot-treat or weedwipe where possible.
Pesticide storage – needs to be 185% of total liquids stored, A chest freezer is ideal, store powders over liquids.
Filling site – fill 10m from watercourse or  50m from spring, well, or borehole. Avoid filling on concrete unless the runoff can be contained and treated. Ensure filling operation cannot contaminate water-supply. Use a drip tray – free of charge from the UST project.
In the field – observe x-compliance buffer strips and LERAPS. Watch the weather – make sure there is no heavy rain imminent, A wind speed of 1-2mph is ideal. Low-drift nozzles and correct boom height. Don't spray when soil cracked down to field drains, or when waterlogged. Ensure application at correct growth-stage.
Cleaning / container disposal – The best place to wash sprayer down is in the field. Containers mustbe triple rinsed and dry. Foils should be rinsed and stored as hazardous waste.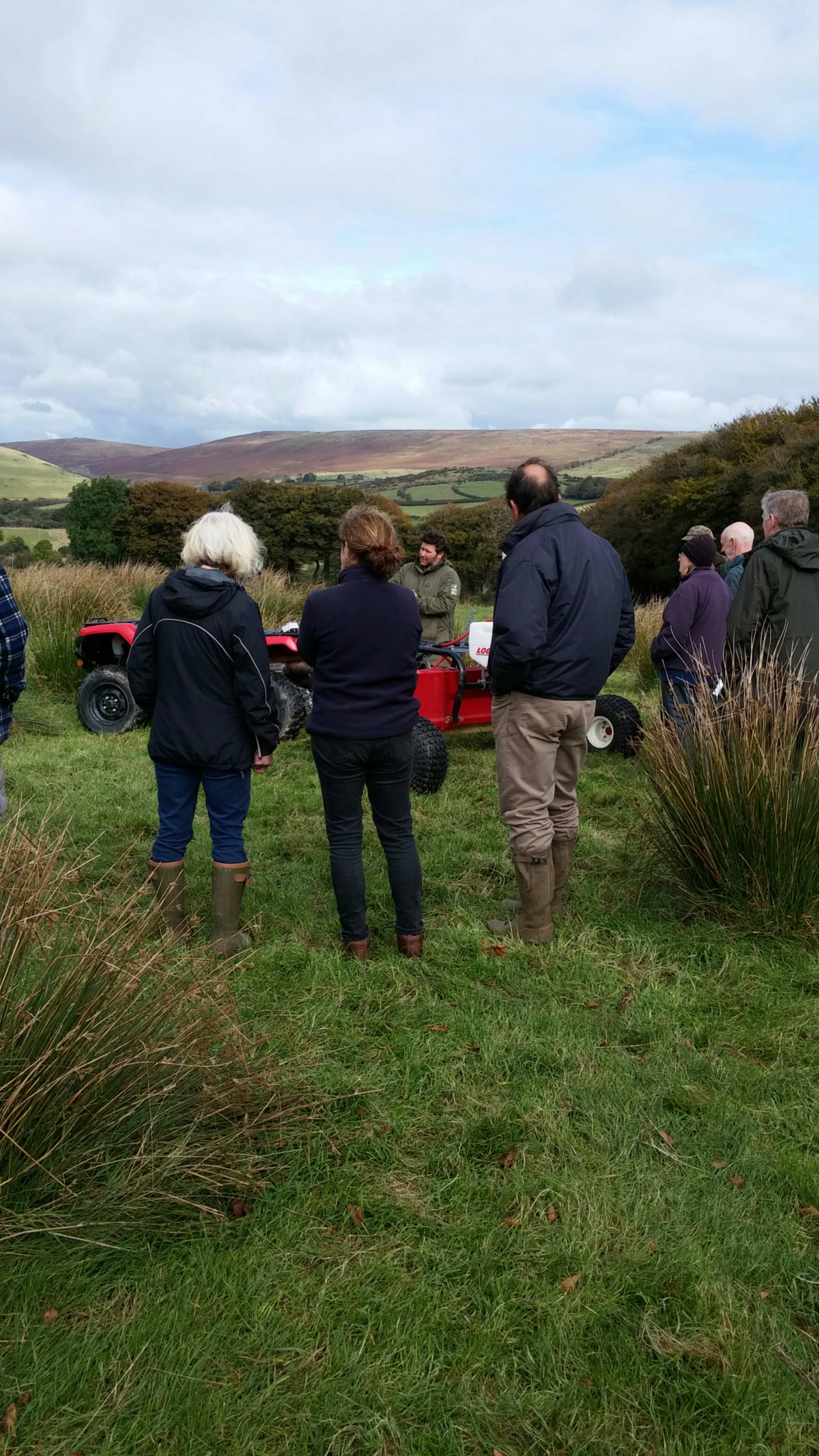 What the UST project can offer (to farmers in the River Dart catchment area only):
Advice on improving the environmental performance of your farm (AM, KS)
Capital grants for infrastructure changes that will benefit water quality, and improve habitats (AM, KS)
Free soil sampling (6 fields for pH, P, K, and Mg) (AM)
Pesticide amnesty – free collection and disposal of banned or out of date products – available until end of Jan 2017. (AM)
Free drip-tray for filling sprayers and knapsack. (AM)
Advice and applications for the Countryside Stewardship Scheme (KS)
Free hire of weedwiper and soil slitter (Brown's Slitmaster) (LD)
Initials in brackets above indicate who to contact –
Annabel Martin (Westcountry Rivers Trust) – 07805 773932, [email protected]
Kerry Smith (Devon Wildlife Trust) – 07989 662540, [email protected]
Louise Davis (Devon Wildlife Trust) – 07973 691175, [email protected]