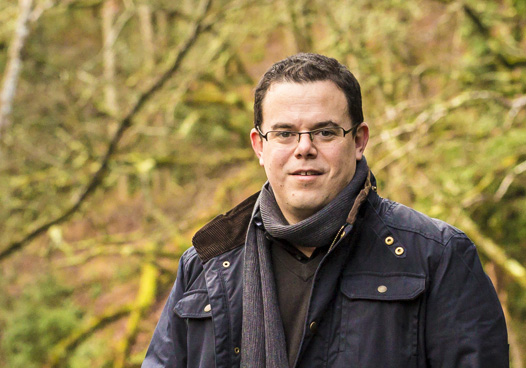 Dr Nick Paling
Head of Evidence & Engagement
Rivers are crucial to our health, happiness and prosperity. Most of the time we take them for granted, but at the Westcountry Rivers Trust we would like to encourage more people to do their bit to look after their local river. Nick Paling, Head of Evidence and Engagement at the Westcountry Rivers Trust, explains how.
.
Get out and enjoy your local river
Do you know the name of your local river? Have you ever walked along its bank? Many of our rivers are hidden underground, but the South West has a number of beautiful riverside walks. Our website can help you to find your local river. It is now well known that being in nature is good for our health and wellbeing.  Spending time by the river can be extremely relaxing and rejuvenating and a great antidote to modern life. Once you know where it is, try to visit it every now and again. If more of us get to know our local rivers we can also all do our bit to keep an eye on them and report any problems, such as littering or pollution. You can check out our guides to pollution here
Go for grass in your garden
More pressure on parking spaces means that many front gardens have now been paved or concreted over. This is no surprise – having a drive is very convenient, especially with many households now having more than one car. The downside, other than the fact that our streets are now greyer than they once were, is that our towns and villages are less flood resistant. Hard surfaces cannot soak up water, so this water flows across the surface into the drainage system, which can become overwhelmed and cause flooding. In many of our towns and cities, there is just not enough space for surface water to drain away. Localised flooding is becoming a real problem.
To do your bit to reduce flooding, go for grass in your garden. If you really want to keep your paving or concrete, think about including at least some permeable surfaces – perhaps incorporate a planted border, place a water butt under your guttering or choose gravel for your driveway.
Keep your drains clear
The water companies have a major job to keep our water clean and safe to drink. We can all make their job easier – and keep water bills down – by watching what we put down our drains. This will also help avoid our waterways becoming polluted. British households apparently pour enough fat down their drains every year to fill seven Olympic swimming pools. We recommend using empty jars or margarine tubs to collect it, then throw it away. Other common culprits for blocked sinks are coffee grinds, produce stickers and broken eggshell. Put these items in the bin instead and you will not only save yourself a plumbing bill, but will also prevent unwanted waste entering our water systems.
Don't waste water
If you are on a water metre, you might already be making an effort to use less water. Reducing your water usage won't just save you money, it will also help the environment. From having a water butt in your garden, to taking shorter showers, the Eden Project has some great, easy tips that we can all use. South West Water also provide free water saving devices, which you can get here.
Get your septic tank checked
If septic tanks are not emptied regularly or are not working properly, they can overflow and discharge straight into the river. This is a particular problem during heavy rain. So, if you have a septic tank – and plenty of rural homes in the South West do – then make sure you understand how to keep it working properly and stop it overflowing. This Government document outlines what you need to do.
Become a citizen scientist
Once you have discovered your local river, we hope you will be inspired to do more to protect it. From volunteering for a river clean-up, to taking part in monitoring activity, there is lots you can do to help us in our efforts. We now have more than 100 volunteer 'citizen scientists' who are helping us to monitor the health of rivers across the South West. Find out how you can join them here.