Globally, about 80% of plastic pollution comes from terrestrial sources and approximately four million tonnes of plastic waste enter the sea via rivers every year, yet little is known about the extent of this pollution and the understanding of its origin.
​
Working in partnership with 17 other organisations from across France and England, Westcountry Rivers Trust is proud to be a part of the Preventing Plastic Pollution (PPP) project.
This seeks to understand and reduce the impacts of plastic pollution in the marine environment.
By looking at catchments from source to sea, the project will identify and target hotspots for plastic, embed behaviour change in local communities and businesses, and implement effective solutions and alternatives.
The €14m PPP project has been approved by the Interreg France (Channel) England Programme, which has committed €9.9m in funding through the European Regional Development Fund. 
The project will work across seven pilot sites: Brest Harbour, Bay of Douarnenez, Bay of Veys, Poole Harbour, and the Medway, Tamar, and Great Ouse estuaries. 
The information gathered from research in these areas will allow the cross-Channel partnerships to tackle plastic waste that enters the sea via rivers every year.
Farm Plastics Advice Sheet
Download our advice sheet, written in collaboration with the Environment Agency, to help you keep on top of your farm plastic waste.
Free waste audit - more info
We are urging businesses in the Tamar catchment to help prevent single-use plastic (SUP) entering the River Tamar.
As part of our work in the €14m Preventing Plastic Pollution (PPP) project, involving key partners in England and France to avert plastic hotspots in the Channel, we are offering small and medium-size companies the opportunity to take advantage of confidential free waste and resource audits to streamline business waste systems.
Former project manager Andy Rogers said: "Valued at £500, the audit will help businesses identify ways to reduce their plastic and other waste, minimising costs and the business's bearing on the environment and the River Tamar."
In 2020, the WRT PPP team collected more than 1,200 food-related SUP items in just seven local litter picks, while in 2021 in just one day at four highway locations they cleared 26 kg of SUP, all of which could have ended up in the River Tamar and then out to sea.
Globally, about 80% of plastic pollution comes from land sources and approximately four million tonnes of plastic waste enter the sea via rivers every year.
Andy added: "Little is known about the extent of this pollution and the understanding of its origin but by booking a confidential free audit, businesses may also provide valuable insight for our PPP research.
"For any large firm or those not based in the Tamar catchment, do please also get in touch as we may still be able to help."
The PPP project aims to develop a scalable and transferable mapping tool to provide quantifiable evidence of sources and quantities of plastic pollution in catchments; create effective and innovative interventions to reduce plastic waste in or entering catchments; and nurture relevant positive behaviour change with local communities and business.
To discuss your confidential free waste audit, please email [email protected] or call 01579 372140.
Visit https://wrt.org.uk/project/preventing-plastic-pollution-ppp/ for more information.
Wow. What an achievement - June 2021
We are over the moon with the support we have received for our litter picks and river cleans in the past six months.
Following ongoing Covid-19 guidance has enabled us to still get out and about across the Tamar catchment, working with dedicated volunteers and supporters to rid the river of single-use plastic.
Back in February, the PPP team headed off to Lifton to conduct a survey alongside the river.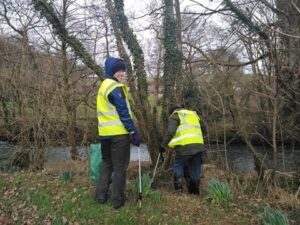 Then in March we joined the Duchy College for a non-tidal river paddle litter pick, followed by a community litter pick in Holsworthy in April.
We had an excellent 'Covid safe' session where five volunteers collected twelve large bin bags of recycling and waste from outside the Livestock Market, and down the road to Rydon Lane in two hours. We also identified and reported three separate fly tipping locations. Thanks to our excellent volunteers, Evelyn, Kim, Mary, and Pauline who gave up their Saturday morning to make a real difference.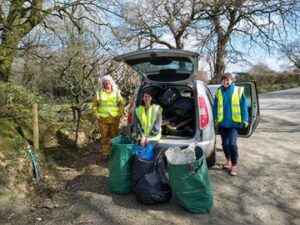 We were back on our canoes later that month as we joined Duchy College students who had decided that as part of their outdoor organisational activities they wanted to undertake a clean up of the tidal river between Calstock and Morwellham Quay.
They organised the event, under the guidance of their tutor Russ Craig, Lecturer in Sport, Outdoor & Military Protective Service.
Russ said: "Having the students organise their own river clean project with the Westcountry River Trust has helped them to understand further the challenges faced by the outdoor industry in leading activities in the natural environment, the consequences of our impact on these fragile sites, and how we can sustainably conserve through education these spaces for future generations to enjoy."
And the students told us they enjoyed the project as they were "doing something great for the environment and having fun at the same time".
British Canoeing also thanked the students and us for supporting the college, and for all the "wonderful" work we do to restore and protect water environments in the Westcountry.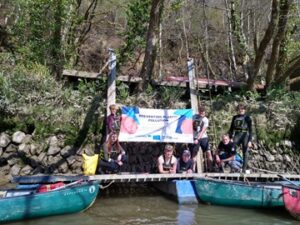 In the same month, our friends at MAI Adventures, also part of the excellent Planet Patrol initiative, organised a community clean-up using paddle boards along the coast. As the sea conditions turned out to be quite dicey on the day, a coastal clean took place instead.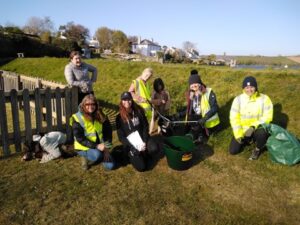 Then in May, we had a first survey and litter pick with Jarvis and Jacob and their parents, Kerensa and Rich respectively (two families). The youngsters are doing litter picking as part of their Duke of Edinburgh Awards community service. Both families are regular 'Womblers' within their communities, and often go further afield to walk and help clean the countryside.
On our second litter pick up and survey, organised with Jacob and Jarvis and their parents, they collected data using our PPP forms.  The plan had been to start in the car park by the River Kensey and undertake a circular walk. We quickly realised the riverbank in this one location was a huge task, so focussed our entire morning there.
For June, we found ourselves enjoying an excellent 'Womble' in Clawton – picking up three very full and heavy bags of plastic and other rubbish scattered up the main road through the village.  Plenty of food packaging, bottles, cans, plastic sheet, old signs, and other miscellaneous rubbish went in the sacks.  Much would have been discarded and some probably blown out of recycling boxes and the collection vehicles.  Many thanks to the Clawton crew.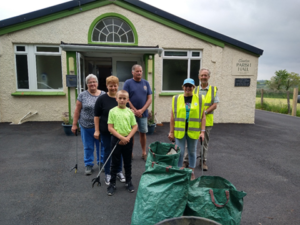 Next on the litter pick list was a survey and litter pick with  2 Minute Clean at Cremyll. A key hotspot was an abandoned WWII fuellng station built by the Americans. Now used by talented urban artists, but leaving a lot of spray cans around.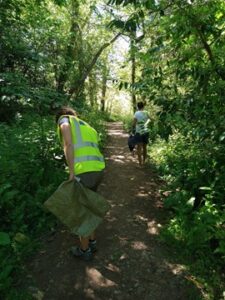 Then Mel from MAI Adventures and a colleague helped out with a paddle clean around the coast of Cargreen, Cornwall.  They collected 7kgs of plastic litter.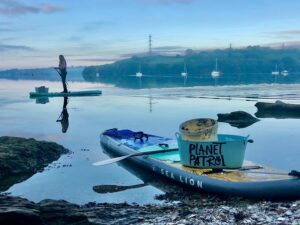 Our friends at the WAVE Project North Devon joined our Westcountry CSI and litter pick event at Buck Mills. They did water testing, kick sampling for invertebrates and a litter pick of the river, woodland and car park.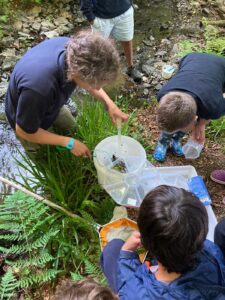 On 21 June we headed over to Launceston for a drop-by event for people to pick up litter plus learn about Riverfly equipment so they could understand why keeping our rivers clean and free of contamination such as plastic is so important. A family of ducks even stopped by tofind out more.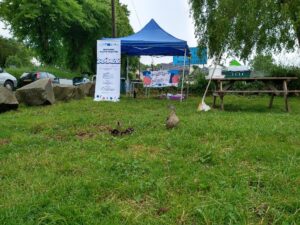 What an incredible six months. And there's so much more to come. Why not find out about our summer campaign to help prevent single-use plastic getting into the River Tamar with #WhatSUP98 – find out more at: wrt.org.uk/project/preventing-plastic-pollution-whatsup98/
Cigarettes and Plastic
When we've been out and about conducting research for Prventing Plastic pollution, we invariably come across discarded litter.
Where we can, if not on a specific litter pick session, we pick it up and dispose of it safely. But we are continually surprised by the amount of single use plastic we find discarded.
But what you might be surprised to learn is that the butts of stubbed out cigarettes contain plastic – cellulose acetate. And you can only smoke them once, so that's single use plastic being thrown away. As the butts degrade over time, they break up into tiny microplastic particles.
In seven litter picks conducted in late 2020, we added 80 cigarette butts to our bins. When they are left on the floor they can end up down drains, in our rivers and then in the ocean. 
According to a 2019 blog post by Action on Smoking and Health (ASH) cigarette butts are 'the most littered item in the world and in the UK alone it is estimated that 122 tonnes of smoking-related litter is dropped every single day'. Every single day!
That's cause for concern as cigarette butts not only include plastic, they will also leach out toxins such as arsenic and lead in the water. The ASH blog also pointed out that 'one cigarette butt left to soak in water for 96 hours will release enough toxins to kill half of the salt or fresh water fish that are exposed to it'.
We aren't here to advise people about smoking – everyone knows it's not good for them – but we are here to ask that you join us in Preventing Plastic Pollution. 
If you smoke, please think before you flick.
Reading:
Read the ASH blog at: https://ash.org.uk/media-and-news/blog/tobacco-polluted-waterways-marine-death/
Check out National Geographic's Cigarette Story of Plastic too: https://www.nationalgeographic.com/environment/article/cigarettes-story-of-plastic
Butt really? The environmental impact of cigarettes paper: https://tobaccocontrol.bmj.com/content/20/Suppl_1/i1
Cigarettes have a significant impact on the environment, not just health report: https://www.imperial.ac.uk/news/188406/cigarettes-have-significant-impact-environment-just/
EarthWatch – Plastic Rivers report: https://earthwatch.org.uk/images/plastic/PlasticRiversReport.pdf
Our latest update - December 2020
It has certainly been an unusual year to make a start on our Preventing Plastic Pollution (PPP) project.
But not detered by our new ways of working, our PPP team began by mapping the potential sources of where plastic (micro and macro) could get into the Tamar catchment waterways.
These included sewage treatment outfalls, roads, urban areas, land use and equestrian centers, to name but a few.
Lydia Deacon, one of our PPP Tamar project officers said: "By mapping these out, we could start to build a picture of potential hotspots of plastic and use the map to identify where to focus our clean up and intervention efforts.
"The mapping is an ever-changing process, and, as the project progresses, we will use our experiences out in the field to evolve the map into its most true picture of plastic hotspots."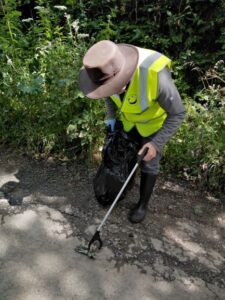 The team's first foray out in the field was in July 2020 on the River Deer (around Chilsworthy and Holsworthy). They had already identified potential hotspots due to roads crossing rivers, outfalls, residential areas and publicly accessible areas next to the river.
Although Chilsworthy is a rural village, it was clear there was excessive litter in the few laybys. This followed at the Holsworthy sites.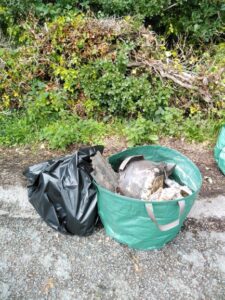 These initial findings have led to Flo (from our partners at Plymouth University) looking into whether there is a scientific correlation between higher levels of litter and laybys.
Since the first trip out, the team has now sampled in Launceston, Tavistock and a few sites on Dartmoor as well as supporting Plymouth University with micro-sampling at seven different locations and layby sampling at five different sites.
"We have found areas of excessive litter build-up and identified where simple interventions could make a noticeable difference to how much litter enters the Tamar and its tributaries," Lydia said.
"We have also come across areas where litter is sparce and active community groups are out regularly cleaning their natural environments, which is fantastic to see and very motivating."
The data being collected is added to an online system, used by all partners, and will be key to how work is progressed through events such as community cleans, interventions and prevention work.
It also helps to validate the mapping and modelling work, which in the future can be used to assess different catchments' sources of plastic waste and in turn help prevent it from entering our rivers and then our seas.
"Looking to 2021, we are excited to get out and about in the catchment once more and we will be running community litter pick events," concluded Lydia.
We would love your help to clean up your local areas and prevent plastic from entering the waterways – keep an eye on our events section where we will be adding details early in the New Year.
All of our work is done under strict COVID working practices – this means our plans may need to change at short notice.
Preventing Plastic Pollution in the Tamar Survey Guides and Resources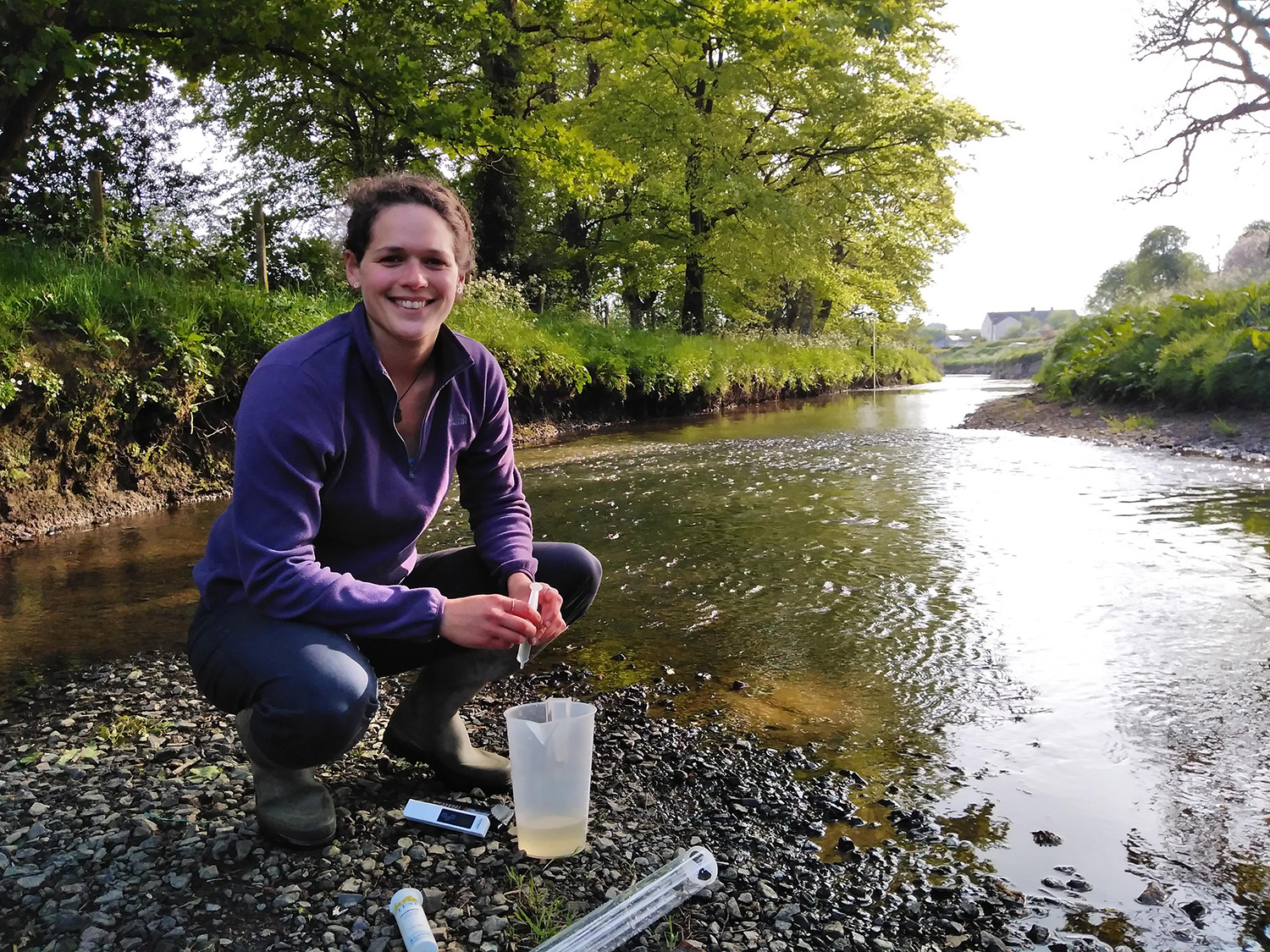 As part of our project work, we will be building on our excellent Citizen Science Investigations (CSI) community who already help monitor water quality issues in our region's river catchments, including recording plastic inputs.
Through PPP, we will be increasing the recording of plastic contamination within our CSI analysis to gather data on
the origins and accumulation of plastic in the Tamar catchment, which will inform where we need to carry out
local interventions – take part in our Tamar Plastic Hotspot Survey too.
This could lead us to work with farmers and businesses upstream to stop plastics getting into the rivers in the first place. It will also include river clean-up opportunities for people and local groups who love their rivers and streams and want to get involved.
Email [email protected] to find out more or call 01579 372140.
Our monitoring takes us across the Tamar catchment and includes sampling at sites such as laybys and on land in addition to our work in rivers and on the sea.
See our gallery below…
Project objectives:
PPP will improve the quality of Transitional Waters across the France (Channel) England area (SO 3.2) by;
Developing a scalable and transferable mapping tool to provide quantifiable evidence of sources and quantities of plastic pollution in catchments.
Developing an effective portfolio of innovative interventions to reduce plastic waste in or entering catchments.
Transforming the behaviour of target groups and demonstrating best practice.
Expected project results:
PPP will improve water quality with:
a) A 10 % improvement in good ecological status (WFD Descriptor 10) in transitional waters.
b) A reduction in the harm caused by plastic pollution in rivers and the sea equivalent to €38.8M-€126M (150 km river/coast cleared, 200 t plastic removed).
c) A plastic-free charter implemented by 650 businesses & 50 supply chains modified.
d) Projected uptake to include+10 more catchments 2 yrs post project, and 100 catchments after 5 years.
Partners involved are: 
Queen Mary University of London
LABOCEA Conseil, Expertise et Analyses
Syndicat mixte établissement public de gestion et d'aménagement de la baie de Douarnenez
Office Français De La Biodiversité, Parc naturel marin d'Iroise
Brest Métropole
Centre national de la recherche scientifique
Counseil départemental de la Manche
Institut français de recherche pour l'exploitation de la mer
Environment Agency
The Rivers Trust
Syndicat de bassin de l'Elorn
ACTIMAR
Brest'aim
Westcountry Rivers Trust
South East Rivers Trust
Plymouth City Council
Department for Environment, Food and Rural Affairs
University of Plymouth