Globally, about 80% of plastic pollution comes from terrestrial sources and approximately four million tonnes of plastic waste enter the sea via rivers every year, yet little is known about the extent of this pollution and the understanding of its origin.
​
Working in partnership with 17 other organisations from across France and England, Westcountry Rivers Trust is proud to be a part of the Preventing Plastic Pollution (PPP) project.
This seeks to understand and reduce the impacts of plastic pollution in the marine environment.
By looking at catchments from source to sea, the project will identify and target hotspots for plastic, embed behaviour change in local communities and businesses, and implement effective solutions and alternatives.  
The €14m Preventing PPP project has been approved by the Interreg France (Channel) England Programme, which has committed €9.9m in funding through the European Regional Development Fund.  The project will work across seven pilot sites: Brest Harbour, Bay of Douarnenez, Bay of Veys, Poole Harbour, and the Medway, Tamar, and Great Ouse estuaries. 
The information gathered from research in these areas will allow the cross-Channel partnerships to tackle plastic waste that enters the sea via rivers every year.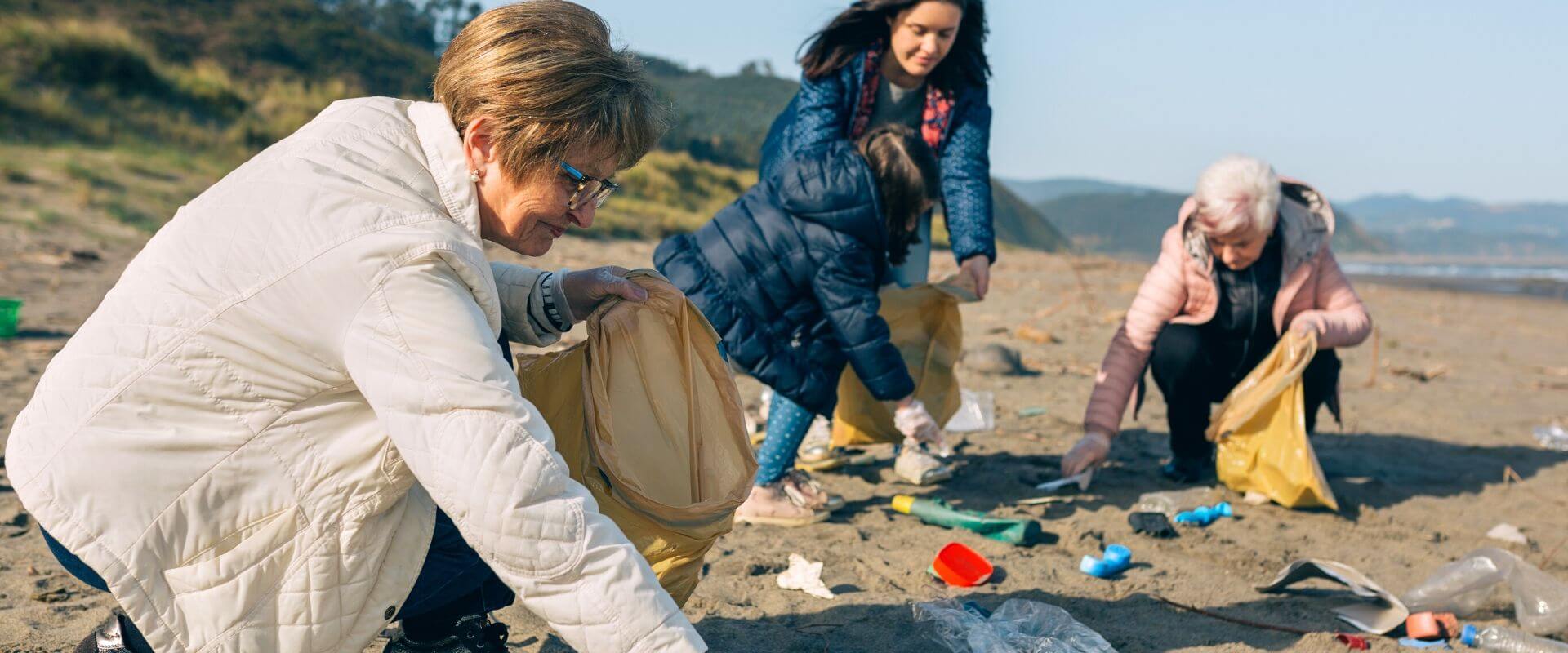 Help our work by sharing your perception of plastic pollution in our quick and easy survey:
Our latest update - December 2020
It has certainly been an unusual year to make a start on our Preventing Plastic Pollution (PPP) project.
But not detered by our new ways of working, our PPP team began by mapping the potential sources of where plastic (micro and macro) could get into the Tamar catchment waterways.
These included sewage treatment outfalls, roads, urban areas, land use and equestrian centers, to name but a few.
Lydia Deacon, one of our PPP Tamar project officers said: "By mapping these out, we could start to build a picture of potential hotspots of plastic and use the map to identify where to focus our clean up and intervention efforts.
"The mapping is an ever-changing process, and, as the project progresses, we will use our experiences out in the field to evolve the map into its most true picture of plastic hotspots."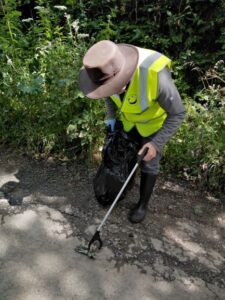 The team's first foray out in the field was in July 2020 on the River Deer (around Chilsworthy and Holsworthy). They had already identified potential hotspots due to roads crossing rivers, outfalls, residential areas and publicly accessible areas next to the river.
Although Chilsworthy is a rural village, it was clear there was excessive litter in the few laybys. This followed at the Holsworthy sites.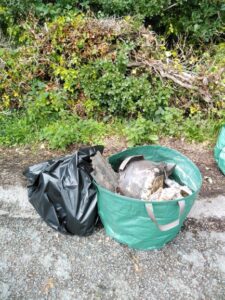 These initial findings have led to Flo (from our partners at Plymouth University) looking into whether there is a scientific correlation between higher levels of litter and laybys.
Since the first trip out, the team has now sampled in Launceston, Tavistock and a few sites on Dartmoor as well as supporting Plymouth University with micro-sampling at seven different locations and layby sampling at five different sites.
"We have found areas of excessive litter build-up and identified where simple interventions could make a noticeable difference to how much litter enters the Tamar and its tributaries," Lydia said.
"We have also come across areas where litter is sparce and active community groups are out regularly cleaning their natural environments, which is fantastic to see and very motivating."
The data being collected is added to an online system, used by all partners, and will be key to how work is progressed through events such as community cleans, interventions and prevention work.
It also helps to validate the mapping and modelling work, which in the future can be used to assess different catchments' sources of plastic waste and in turn help prevent it from entering our rivers and then our seas.
"Looking to 2021, we are excited to get out and about in the catchment once more and we will be running community litter pick events," concluded Lydia.
We would love your help to clean up your local areas and prevent plastic from entering the waterways – keep an eye on our events section where we will be adding details early in the New Year.
All of our work is done under strict COVID working practices – this means our plans may need to change at short notice.
Farm Plastic - can you help?
The FWAG Farm Plastic Recycling Scheme is expanding.
They are looking for sites in the Tamar Catchment, Devon, and Poole Harbour Catchment, Dorset.
Do you know a suitable site? Would you use the scheme? Can you help?
See the poster below for details – get in touch with PPP project manager at [email protected] if you can assist in the Tamar catchment or via the FWAG details.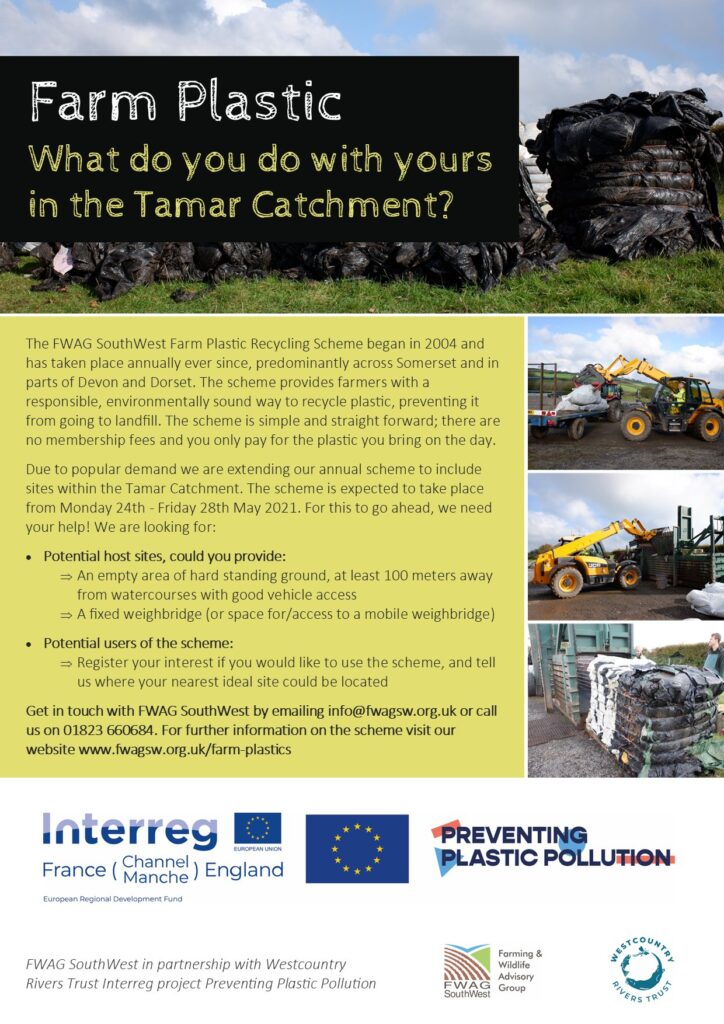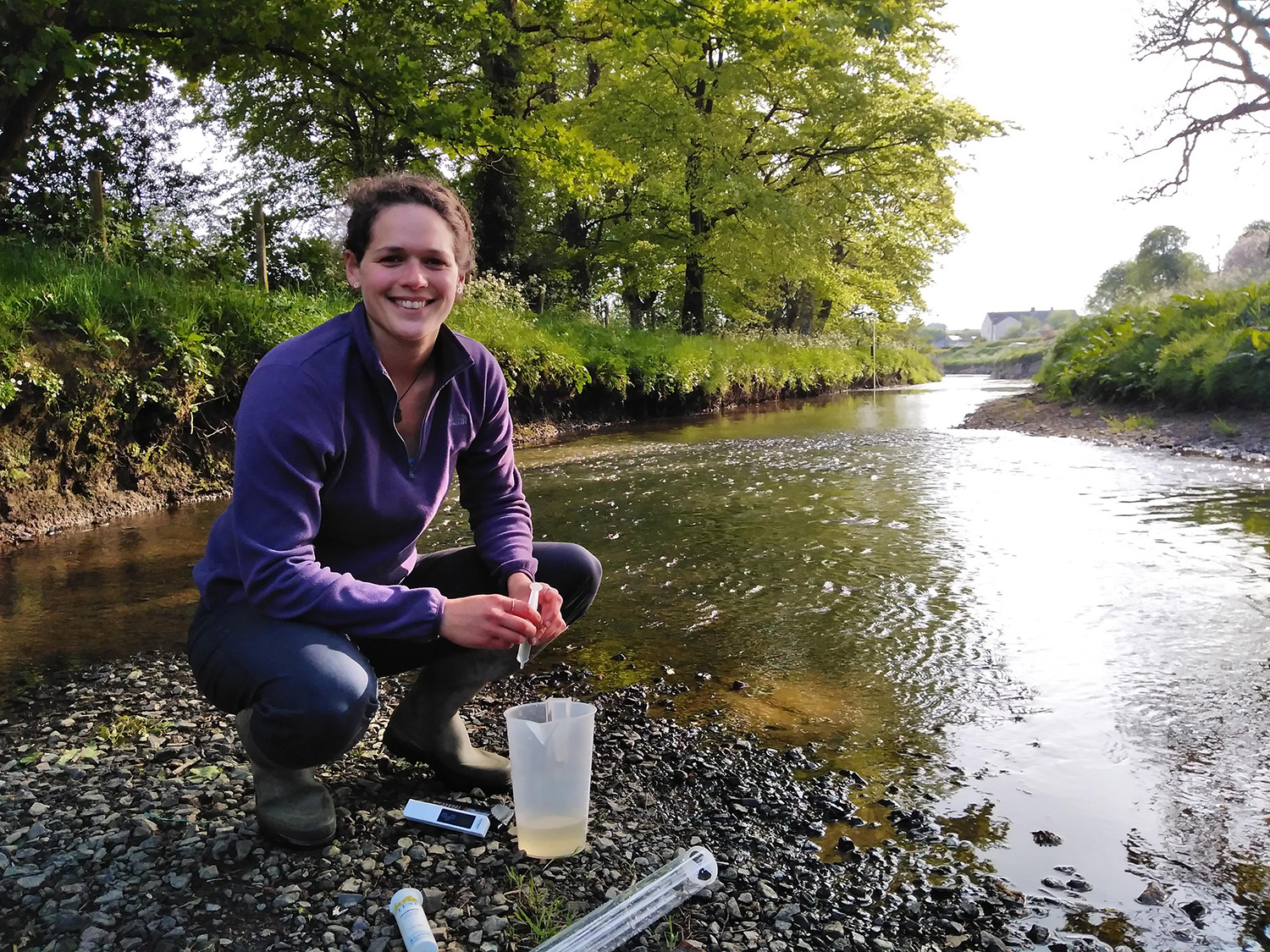 As part of our project work, we will be building on our excellent Citizen Science Investigations (CSI) community who already help monitor water quality issues in our region's river catchments, including recording plastic inputs.
Through PPP, we will be increasing the recording of plastic contamination within our CSI analysis to gather data on
the origins and accumulation of plastic in the Tamar catchment, which will inform where we need to carry out
local interventions – take part in our Tamar Plastic Hotspot Survey too.
This could lead us to work with farmers and businesses upstream to stop plastics getting into the rivers in the first place. It will also include river clean-up opportunities for people and local groups who love their rivers and streams and want to get involved.
Email [email protected] to find out more, or contact our project manager Andy Rogers at [email protected] or call 01579 372140.
Our monitoring takes us across the Tamar catchment and includes sampling at sites such as laybys and on land in addition to our work in rivers and on the sea.
See our galery below…
Project objectives:
PPP will improve the quality of Transitional Waters across the France (Channel) England area (SO 3.2) by;
Developing a scalable and transferable mapping tool to provide quantifiable evidence of sources and quantities of plastic pollution in catchments.
Developing an effective portfolio of innovative interventions to reduce plastic waste in or entering catchments.
Transforming the behaviour of target groups and demonstrating best practice.
Expected project results:
PPP will improve water quality with:
a) A 10 % improvement in good ecological status (WFD Descriptor 10) in transitional waters.
b) A reduction in the harm caused by plastic pollution in rivers and the sea equivalent to €38.8M-€126M (150 km river/coast cleared, 200 t plastic removed).
c) A plastic-free charter implemented by 650 businesses & 50 supply chains modified.
d) Projected uptake to include+10 more catchments 2 yrs post project, and 100 catchments after 5 years.
Partners involved are: 
Queen Mary University of London
LABOCEA Conseil, Expertise et Analyses
Syndicat mixte établissement public de gestion et d'aménagement de la baie de Douarnenez
Office Français De La Biodiversité, Parc naturel marin d'Iroise
Brest Métropole
Centre national de la recherche scientifique
Counseil départemental de la Manche
Institut français de recherche pour l'exploitation de la mer
Environment Agency
The Rivers Trust
Syndicat de bassin de l'Elorn
ACTIMAR
Brest'aim
Westcountry Rivers Trust
South East Rivers Trust
Plymouth City Council
Department for Environment, Food and Rural Affairs
University of Plymouth