Take action for water, nature and for where you live as a Plymouth River Keeper.
Whether you want to find out how to help your local environment or are already a committed environmentalist, you are invited to join us as a Plymouth River Keeper. 
Keep the streams at the bottom of your gardens and ends of your roads flourishing – for wildlife, for you, for others, and 
for always.
We are initially working in North West Plymouth.
Our first step in collaborating with you is to discover your thoughts and ideas about your connection to water in the areas of Ernesettle, Tamerton Foliot, Southway, Whitleigh, Widewell, Honicknowle, Derriford West and Crownhill, and Manadon and Widey.
Latest Updates
An Outfall Safari in the Woods
Our first Outfall Safari in Budshead Wood Local Nature Reserve has been a great success.
Eleven volunteers from the community joined us in December 2022 to visually assess and report on surface water outfalls within the Reserve.
The outfall safari method has been designed by the Zoological Society of London, the Environment Agency and other partners. It allows for locating, assessing the impact of, and reporting polluting surface water outfalls.
In addition to the outfall safari, the volunteers used kits from our Westcountry Citizen Science Investigations river monitoring scheme to test for phosphates, nitrates and ammonia. These can all indicate pollution linked to humans or farm animals, for example from cleaning chemicals and sewage.
This is important work in the PRK area and ties in with the project's wider work understanding surface water drainage misconnections from households and the industrial estates (e.g., when dishwashers, washing machines are incorrectly plumbed into the surface water drainage system, which can lead to detergents and other household chemicals to flow directly into the streams). By finding these misconnections, the root cause can be addressed which will lead to fewer pollution incidents and higher overall water quality.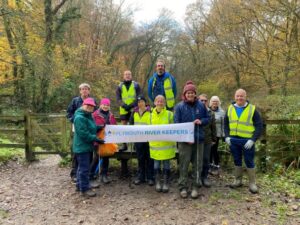 Project officer Jenny Wytcherley said: "The volunteers learnt about the surface water outfall system, different types and sources of pollutants and the negative effects they can have on wildlife and water quality.
"This led to some interesting and insightful conversations during the walk around Budshead Wood and we are looking forward to our next outfall safari which will take place very soon."
To find out more about Outfall Safaris, head to: https://catchmentbasedapproach.org/learn/outfall-safari-guide/ and visit our events page for future Outfall Safari dates.
Ongoing work 
Our Fisheries Team will be starting electrofishing surveys in late summer 2021. Electrofishing surveys of nine sites throughout the catchment are proposed to take place in 2021 prior to fish barrier works and habitat works, and again in summer 2022 and 2023 after the works. This will allow us to assess the impact of barriers to fish passage on populations and to inform the effectiveness of the works undertaken. These surveys will be fully quantitative (FQ) and will allow an accurate count of the number of fish present, including species, size and age.
August 2021
PRK, working closely with Plymouth City Council and the local community, have released weevils into Budshead pond to help fight the invasive Water Fern. Read the full story here: Non-native weevils help to clear Budshead pond of an invasive plant. | Westcountry Rivers Trust (wrt.org.uk)
Summer 2021
Community events – PRK has teamed up with our colleagues on the Preventing Plastic Pollution (PPP) project and Westcountry CSI to run a number of community events throughout the PRK area. These include litter picks and pop-up events, giving local communities the opportunity to learn more about the wildlife that lives in the streams, watch Westcountry CSI demonstrations, take part in river themed crafts and enjoy River Stories from a Storyteller. Find a full list of the events here: Events | Westcountry Rivers Trust (wrt.org.uk)
June 2021
Non-native Invasive Species (NNIS) Surveys – Our River Ops Team has started non-native invasive species (NNIS) surveys in the PRK area, and so far identified Himalayan Balsam, Japanese Knotweed, Laurel, Bamboo, Rhododendron and Water fern (Azolla filiculoides).
Over the course of the PRK project, we'll be tackling the non-native invasive species to improve the habitats for our native wildlife.
We removed a large area of Himalayan Balsam from Whitleigh Wood (a Woodland Trust wood) at a Himalayan Balsam Bashing community event, and identified a further area of Balsam for a future event.
May 2021
Lucie, a Plymouth University Student currently on placement with us, speaks about undertaking water quality monitoring within the PRK catchment. Read the full post here: Day in the life of a river scientist in Plymouth. | Westcountry Rivers Trust (wrt.org.uk)
April 2021
Our Fisheries Team has completed the first phase of SNIFFER surveys at 15 fish migration barriers in low flows. The Team will be returning to the catchment in autumn/winter 2021/22 to undertake the second phase of high flow SNIFFERS. The results will help us to prioritise which barriers should be removed through PRK.
The SNIFFER protocol is a technique developed by the Scottish and Northern Irish Forum For Environmental Research (SNIFFER) and looks in-depth at barriers (such as weirs and culverts) to give expert judgement of its "pass-ability" in terms of different migratory fish species.
Feb 2021.
Our wildlife and resident/organisation surveys are now closed. We will be sharing findings from these in the coming weeks. More soon.
Connecting with place…
The initial focus for Plymouth River Keepers is the restoration and improvement of three specific streams, one of which
doesn't seem to have a name – unless you can tell us? Or maybe we can work together to name it…
You can see some of the problems that need to be addressed in various locations in the photo gallery below.
River clean-ups and citizen science water monitoring are some of the ways Plymouth River Keepers could prevent pollution incidents and problems like these.    
Throughout the project, we aim to implement positive habitat improvement works, such as removing non-native invasive plant species and removing barriers to fish passage.
As a Plymouth River Keeper, you will be making decisions to prioritise future actions such as these, and there may even be opportunities for you to get involved with some of the practical aspects.
You'll be part of deciding what we can achieve, together.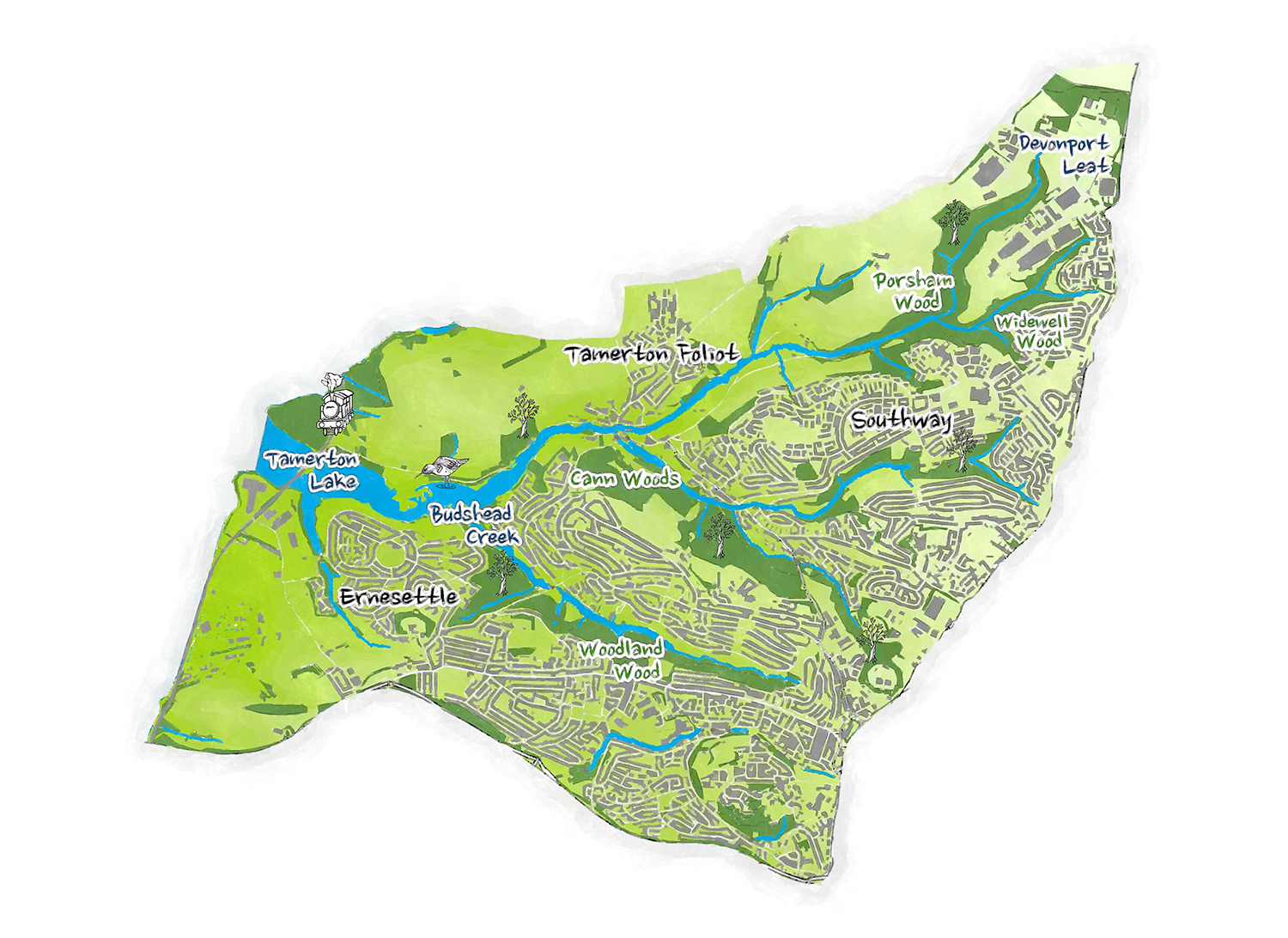 Our map above shows you the areas where
Plymouth River Keepers will begin.
If you live here, it will be good to have you involved.  
We'd love to see your pictures of places by water that are special to you to share in the gallery below, just email us a photograph at [email protected] to be included.
Westcountry Citizen Science – find out how it will play a part in Plymouth Rivers Keepers
Westcountry Rivers Trust Citizen Science Investigations (CSI) has been running for four years.
Its CSI River Keepers monitor their local waterways, keeping a look out for changes in water quality, pollution issues, problem plants and the well-being of wildlife.
Not only does their input help improve the health of the region's rivers, streams, lakes and ponds but they become part of growing team of essential citizen scientists.
We are looking for people in Plymouth to take part – if you would like to learn more about the wildlife, flora and water quality of your local waterway, visit:
wrt.org.uk/project/become-a-citizen-scientist/
Or email us at [email protected] to register your interest.
Plymouth River Keepers aims are:
To prevent pollution incidents and improve water quality

To protect the streams for wildlife and current and future generations

To ensure the places streams flow are ones people can enjoy, now and in future

To embed water environment caretakers in communities

To build a local love for water across the UK
Monitoring data we collect relating to plastic will be shared with our sister project, Preventing Plastic Pollution.

blank
Plymouth River Keepers - background story
The Tamerton Stream near Plymouth has suffered several pollution incidents over the years. 
In August 2016, a pollution incident caused by the build-up of commercial-use wet wipes created a blockage in the sewerage pipe. When this happens, untreated sewage is released into the nearest waterway.
This pollution incident had a substantial impact on the stream, unfortunately killing more than 80 brown trout. 
As a result of this incident, an Enforcement Undertaking (EU) was agreed by the Environment Agency with South West Water (SWW) to the value of £350,000.

To help improve the area, SWW used this EU to enable Westcountry Rivers Trust to conduct work to improve the urban watercourses in the Plymouth area, particularly the Tamerton stream,* which has led to the creation of the Plymouth River Keepers (PRK) project.
WRT has often worked with communities to achieve positive results for people and nature and recognises community involvement is vital to the success of PRK.
To assist with community engagement, WRT is collaborating with the Bioregional Learning Centre (BLC). Their expertise lies in building community resilience through Story of Place and multi-stakeholder online conversations or gatherings.
WRT and BLC have previously developed the idea of River Keepers for South Devon, making PRK a natural extension of that work.
This three-year project (2020-2023) aims to show the benefits (health, wellbeing, environmental) that individuals, groups and businesses can gain from connecting water, people and place in this location.
WRT aims to undertake the following actions, which are designed to increase the recovery in fish populations and restore, and improve the resilience of, local streams via engagement with people from the local community:
Baseline data collection (to inform which further surveys are required and potential works to be undertaken):
 Baseline ecological surveys by WRT Evidence and Engagement Officers.

 Water quality sampling by WRT Evidence and Engagement Officers.

 Fish surveys (including electrofishing) by WRT River and Fisheries Officers.
Potential works:
Litter/ debris removal – to be run as community engagement activities, led by WRT/other.

Removal of invasive non-native plant species – to be run as community engagement activities, led by WRT/other. 

Areas of bankside erosion to be improved by allowing access to the river via hardstanding, to increase the connection to the water.

Targeted coppicing to reduce shading in appropriate areas and improve the productivity of the watercourse.

Investigations of barriers to fish passage to determine the severity of each barrier and to assess the potential for their removal.
Citizen Science:
Westcountry CSI (Citizen Science Investigations) – monitoring the river for a variety of reasons such as problem plants to pollution.

Riverfly surveys – recording freshwater invertebrates to assess the water quality.
Promotion:
WRT will promote BLC's engagement opportunities, while overseeing public communications for the project.
* The Environment Agency is responsible for enforcing laws that protect the environment. An EU is a voluntary offer of funds from the responsible party to remedy the effects of an incident such as the pollution incident on the Tamerton Stream. In addition to the EU, South West Water has since cleansed the main sewer line that runs through the woods and this should help reduce the likelihood of any further pollution incidents.
Bioregional Learning Centre