At the Westcountry Rivers Trust, we value the desire from businesses to support the resilience of rivers and freshwater-related habitats through sustainable practices.
We work in myriad ways to assist companies in the region help keep bringing rivers to life.
This includes but is not limited to:
Our farming advice
Our Corporate Support – Freshwater Habitat Activity 
Our professional services 
Corporate Support – Freshwater Environment Action Day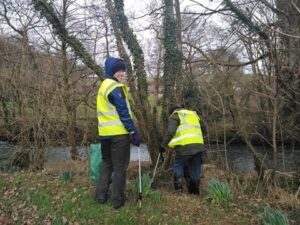 Have a safe and secure time as you make a positive difference for the Westcountry's freshwater environments.
You could be:
Helping to remove invasive plant species or creating habitat for wildlife
Supporting carbon storage by planting wetlands and woodlands
Preventing plastics entering our rivers and removing litter
Improving staff wellbeing and creativity while learning new skills
Please email [email protected] at least six weeks before your anticipated activity.
Our costs cover admin, full risk assessment, health and safety, Public Liability, access permissions, rubbish removal, equipment, social media/PR (if required) and our extensive river habitat knowledge, enabling you to have a fun and worthwhile time bringing rivers to life with us.
Prices are tailored to specific activity requests but as a guide £1,500 will cover a day for a group of 15 people.
Click Lloyds Banking Group to find out about their support.
Direct Support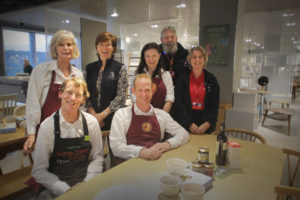 We love to work with firms that want to support our work directly.
In 2019, our 25th anniversary year, Otter Vale Products kindly decided, in their 40th anniversary year of making their delicious Onion & Pineapple Devon Chutney, to donate a percentage of all its sales from the year in support of our work.
If you would like to chat about the ways your business could support us, your community, your environment, and our rivers and tributaries across the region, please email [email protected]
Professional Services
Our multi-disciplinary professional services (our commercial trading subsidiary) offers ecological, aquatic, and environmental services throughout the South West.
We employ dedicated specialist consultants for specialist projects such as ecological impact assessments.
All the profits generated by the company are covenanted to the trust to support the charity in its environmental work.
Email [email protected] to find out how we can assist your freshwater project.

Working with business not only benefits our work, our communities and our environments, it is also beneficial for the business involved.
We want to engage with companies that support our vision and mission to bring rivers to life. Our business collaborations/projects will build trust and respect while nurturing a shared responsibility to accomplish effective results.
Working with Westcountry Rivers Trust can create positive PR opportunities, helping to enhance your company's profile as you help your environment.