Our Fisheries and River Ops teams, working under the ERDF-funded Water for Growth partnership, have been working along the river Camel to ensure its Natural Capital of salmon and trout can swim it successfully.
The Camel Vision aims to re-naturalise the river, one of Cornwall's most important Special Areas of Conservation, and an element of this has been the removal of Keybridge weir, in situ for more than 100 years on the De Lank (a tributary of the river Camel) and a significant obstacle to migratory salmon and sea trout.
It has been slowing and stopping these fish from reaching their spawning grounds higher up the catchment.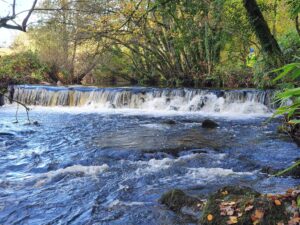 This autumn our teams, aided by contractors, and supported by the Environment Agency and Natural England carefully removed the weir.
The results were instantaneous, with clean river gravels filling the space where once a barrier had stood.
As the weir came down, the ingenuity of those who built the weir became apparent, and the structure was carefully recorded by our Archaeological consultant to preserve this information for posterity.
Our head of fisheries and rivers Dr Bruce Stockley said: "This will ensure salmon and sea trout are able to make their migration up the De Lank River to their spawning gravels on Bodmin Moor, protecting both species for future generations.
"On its own, the removal of Keybridge weir would be a significant achievement but the W4G partnership ERDF project has either removed, or improved fish passage on 16 structures on the rivers Camel and Fowey over the past four years.
"Taken together, these will make a real difference to these rivers."
In addition to this, we are improving river habitat on both rivers and enabling anglers to fish using our Fish Pass app.
We know that in 2020, anglers found a welcome and much needed socially distanced form of exercise along our region's riverbanks.
We are delighted to announce that we have been given another two years of funding to continue this good work.
Read more at: wrt.org.uk/restoration-river-camel/