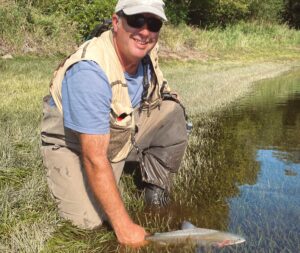 A mixed month weather-wise again, which included one of the hottest, driest recorded September weeks at the beginning of the month, along with some breezy days with showers and cooler winds. Water levels are still generally low, with many lakes still under 70% full.
Kennick – Boat and bank anglers both enjoyed equal measures of success, averaging just over two fish per rod (but struggling more in the hotter week), with a slow retrieve and floating, intermediate, or sinking lines all catching fish. Clampitts Bay, Elder Point, Forest Bay, Hawthorn Point and Sycamore Wall proved to be the most productive locations. While there were some Buzzer hatches (when Black Gnats and CDC Emergers caught fish), most trout were taken on nymph patterns (Damsels, Diawl Bachs, and Pheasant Tails) or lures (Bead-head Fritz, Boobies, and Black Lures). Peter Gilpin (from Newton Abbot) enjoyed a great session, catching a bag of ten rainbows, using Lime-green and Black Boobies.
Siblyback – The best sport was had early in the month before the hot spell, when anglers averaged 2.5 fish per rod, fishing mainly with floating lines, with the banks at Stocky Bay, Two Meadows, The North Shore and West Bank producing the best sport. While some fish were caught on dry Sedges and Coch-y-bondhu beetles, sub-surface patterns (Montanas, Diawl Bachs, or lures such as Boobies, Butchers and Fry Patterns) fished on a floating lines proved to be the most successful.
Burrator – This Dartmoor lake has started to refill, and is 96% capacity at time of writing. Anglers have reported large numbers of fry in the margins. Floating and intermediate lines fished with varied retrieves produced the best results (anglers averaged 2.2 fish per rod), with fish being caught at Longstone, Pig Trough, Bennetts Lawn and Lowery Point. Surface feeding fish were taken on Daddies, Hoppers, Shipmans Buzzers and dry Olives, while Damsels, Montanas, Black Buzzers, Pheasant Tails caught the deeper feeders, along with a few fish taking Tadpoles and Orange Blobs. While no big fish were caught over the month, plenty of decent bags were taken – Mike Ellis (from Paignton) caught six rainbows to 1lb 8oz fishing from a boat with a sink-tip line.
Stithians – fishing at Stithians improved in September, with anglers averaging over 2.5 fish per rod, with most being caught on floating or sink-tip lines, using either dry patterns (Daddies, Black Gnats, Olive or Claret Hoppers and CDC emergers) or sub-surface nymphs (Diawl Bachs, Buzzers, Black and Peacocks, and Spider patterns) fished with a fast figure-of-eight retrieve. Pipe Bay, Sailing Club, Goonlaze, Pub Bay, Yellowort and Sluice Bank all produced good sport. Simon Peters (from Cusgarne) caught five rainbows to 2lb and one wild brownie at 1lb at Pipe Bay, using dry patterns to fish which were rising to midges and gnats. Stephen Glanville (from Truro) caught five rainbows using a fast figure-of-eight retrieve and sink-tip line.
While Fernworthy and Roadford both had a very quiet month, with few fish caught, Colliford continued to produce some excellent brown trout sport – anglers averaged nearly five fish per rod, with fish well spread out around the banks (Lords Waste and the bank by the dam both fished consistently well). Floating lines with a long leader proved to be the best tactic, either with dry patterns (Daddies, Hoppers, Sedges and Beetle patterns) or pulled wets and nymphs (Soldier Palmer, Spiders, Damsels and Bibios) near the surface. Chris Tilyard caught a bag of ten browns, while Alan Judd (from Seaton) caught eight to 36cm, using floating lines and dry patterns or pulled wets. Andy and Al Lawson (from Plymouth) enjoyed a great day's sport catching ten fish to twelve inches between them, using Claret Popper Hoppers cast to topping fish in Fishery Hut Bay.
Please visit the South West Lakes website for more information on buying tickets, boat availability and booking, and forthcoming events.
– Chris Hall (South West Lakes, September 2023)