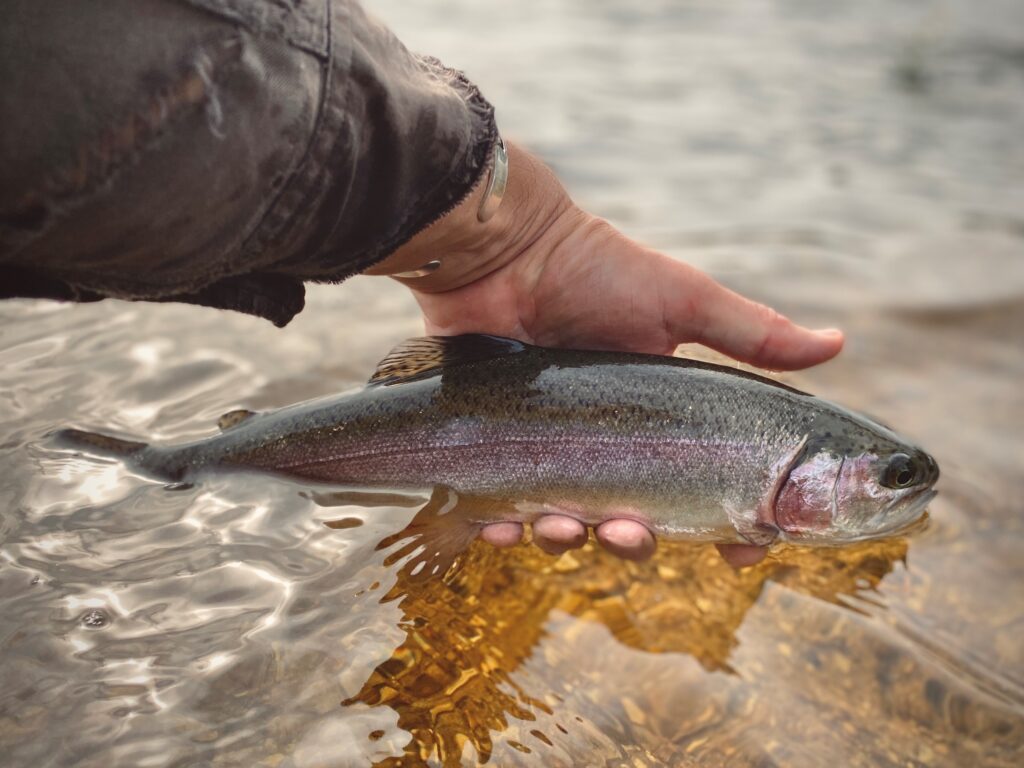 A mixed month weather-wise again, which included a warm dry week early in the month, followed by a sudden drop in temperatures, bringing conditions back to the seasonal norm. Water levels remain low at many lakes, although they have now at last begun to slowly refill.
Kennick – Boat anglers enjoyed marginally better sport than those fishing from the bank, with rods averaging 2.2 fish per angler across the board. A variety of lines and depths caught fish, with floating lines and sink-tips the most popular, along with either a slow figure-of-eight or a fast, jerky retrieve. A few surface-feeders were caught on Hoppers, Sedges and Dry Daddies, but the majority were caught on nymphs (Damsels, Diawl Bachs and Buzzers) or lure patterns (Orange Blob, Cats Whisker, Red Zonker, White Nomad). Fish were well spread out around the fishery, although Clampitts Bay, Hawthorn Point and The Lawns featured in many catch returns. Graham Roberts caught the best fish of the season – a powerful 4lb rainbow (as part of a bag of six fish) caught from a boat, fishing deep off Hawthorn Point. Peter Compton (from Bridport) caught three rainbows to 3lb 10oz using Humungous variants on a floating line and varied retrieves. Chris Whiteman (from Exeter) caught a 2lb 8oz rainbow and a hard fighting, powerful 1lb 8oz brown using a gold-head blue-flash damsel off Boat Bank.
Siblyback – October was a challenging month for Siblyback anglers, who only managed to average 1.2 fish per rod, with Stocky Bay, Two Meadows and North Bank producing the best sport. A few fish rose to Claret Hoppers and Foam Daddies, but the majority were caught on sub surface nymphs (Montanas, Buzzers and Black and Peacock spiders) fished on sink-tip floating lines.
Burrator – This Dartmoor lake has maintained its level, at 96% capacity at time of writing. Longstone continues to produce consistent sport, although Pig's Trough, Lowery Point and Discovery Bay have also fished well. Generally Intermediate and Floating Lines with a variety of retrieves have produced the best results, with a wide selection of wet patterns catching fish, as well as the occasional Black Beetle and Foam Daddy taking rising fish.
Stithians – Fishing effort and catch results increased dramatically in the second half of the month, when anglers averaged 2.9 fish per rod, mainly using a floating line with a long leader, either with sedge patterns, Daddies and Hoppers to rising fish, or lure patterns to imitate fry in the margins. Congratulations to Tony Chipman (from Truro) on winning the local club's John Battensby Memorial Trophy competition, with five rainbows to 2lb 2oz, and two browns to 2lb, using Hoppers, Daddies, Pheasant Tails and Stickleback fry imitations, all on a floating line and long leader.
Fernworthy – The fishing improved dramatically at this Dartmoor lake in October, with anglers catching weekly averages of up to 4.2 fish per rod. Boat House Bank, Lowton Bay, South Bank and Thornworthy produced the best sport, with successful anglers using floating lines and a slow retrieve. Rising fish took Daddies, Sedges, Coch-y-bondhu and emerger patterns, while subsurface feeders were caught on Black and Peacock Spiders, Black Pennells and Kate McLarens. Clive Garland caught an excellent bag of six browns off Thornbury Point using a Black and Peacock Spider fished just under the surface.
Colliford continued to produce some excellent brown trout fishing, with anglers averaging 4.3 fish per rod, with fish well spread out around the lake. Plenty of surface action meant that dry flies (Beetles, Hoppers and Black Gnats) fished well, as did sub-surface patterns (Alexandra, Mini Muddlers, Zonkers, Soldier Palmers and Zulus) fished on floating lines.
Roadford's fishing picked up in October, with fish being caught by the dam, East Wortha and Davey's Bank, either on the surface using Foam Beetles and Hoppers, or deeper, using Soldier Palmers and Black Tadpoles.
The Trust's Brown Trout fisheries closed on 15 October, while the Rainbow waters stay open until 31 December.
Please see the South West Lakes website for more information on buying tickets, boat availability and booking, and forthcoming events.
– Chris Hall (October 2023)