Parke Weir
Enabling free movements of native fish species in the Teign Catchment and providing climate change resilience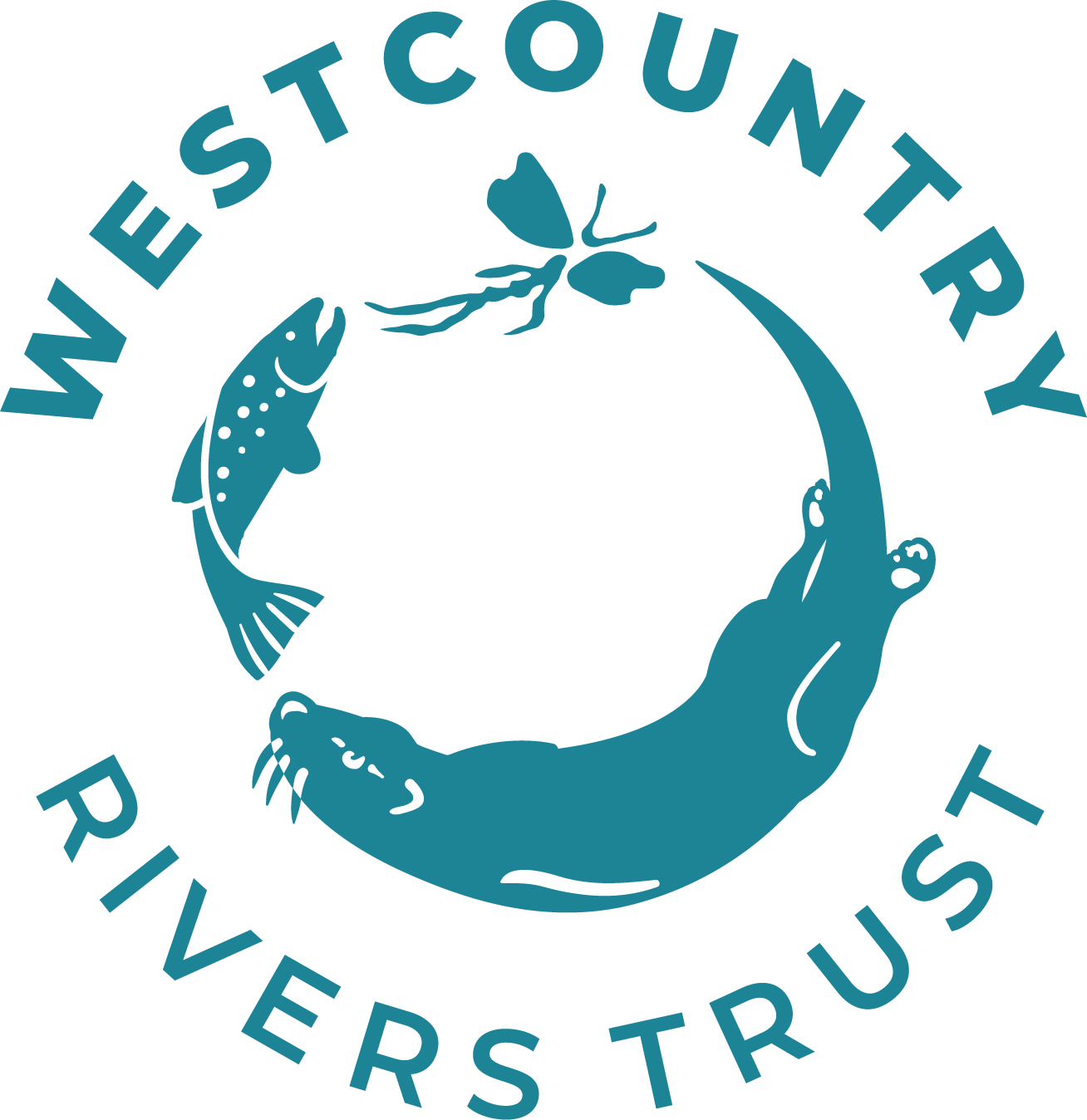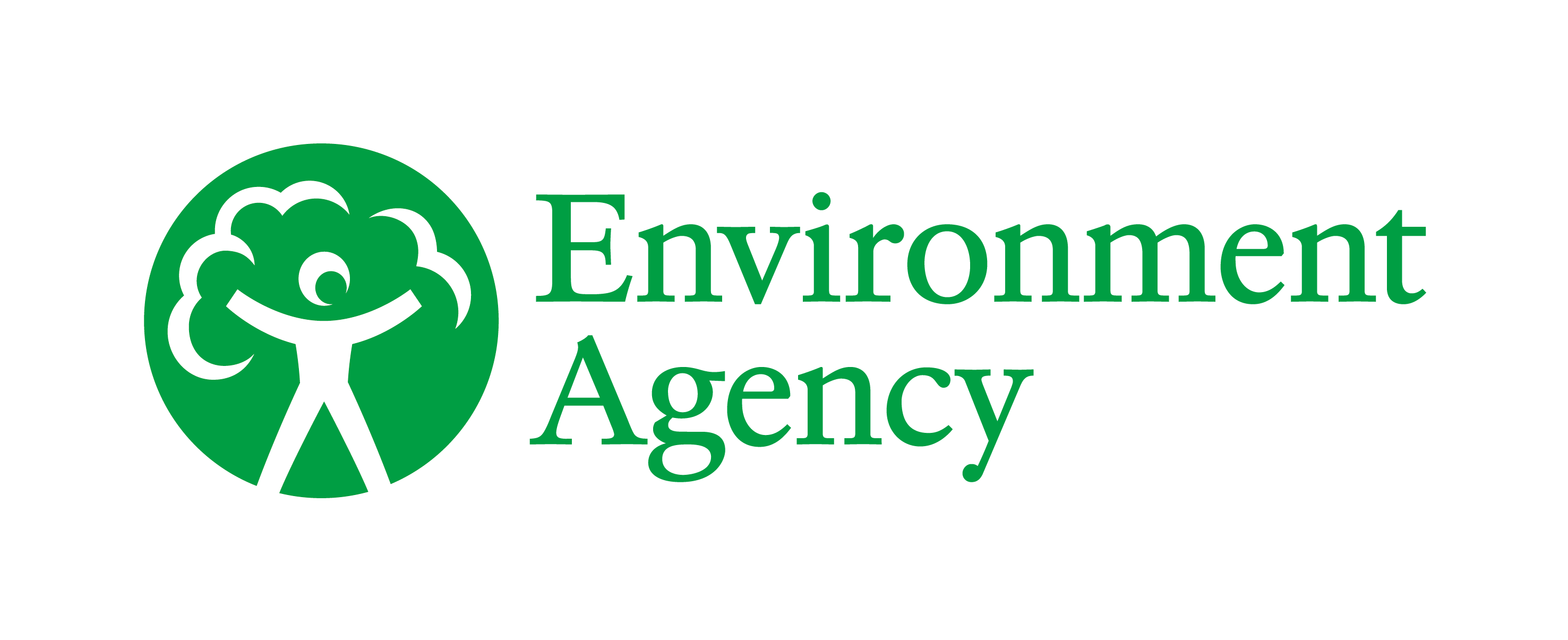 Westcountry Rivers Trust are working with the National Trust and Environment Agency to improve fish migration at Parke weir, a degraded weir within the National Trust Parke Estate in Bovey Tracey, south Devon.
The River Bovey is an important tributary of the Teign catchment, and is a stronghold for Atlantic salmon and Sea trout in the southwest. The Teign catchment also hosts the iconic and protected European eel.
The current state of the weir potentially allows us to help these diadromous fish on their migrations, which are critical to completing their life cycles.
However, the best course of action is yet to be determined, as we are working with our project partners and the public to reach the best outcome not just for these fish, but the wider river ecology, along with considering the cultural and historical significance of Parke weir.
○ Parke weir is a medieval structure with historic importance.
○ The weir structure is deteriorating and we would like to improve fish migration up and down the catchment.
○ Parke weir diverts water to Parke leat which has protected ecology such as unique lichens.
○ The River Bovey is an important tributary of the Teign catchment and the Upper Bovey sub-catchment is failing to meet Good Water Framework Directive (WFD) status with a 'Poor' ranking since 2015.
○ The upstream Becka Brook waterbody fails to meet Good Ecological Status for fish under the WFD.
○ Salmonids in particular are declining in South West England's rivers and we need to do all we can to address cumulative impacts to improve connectivity, habitat and survival.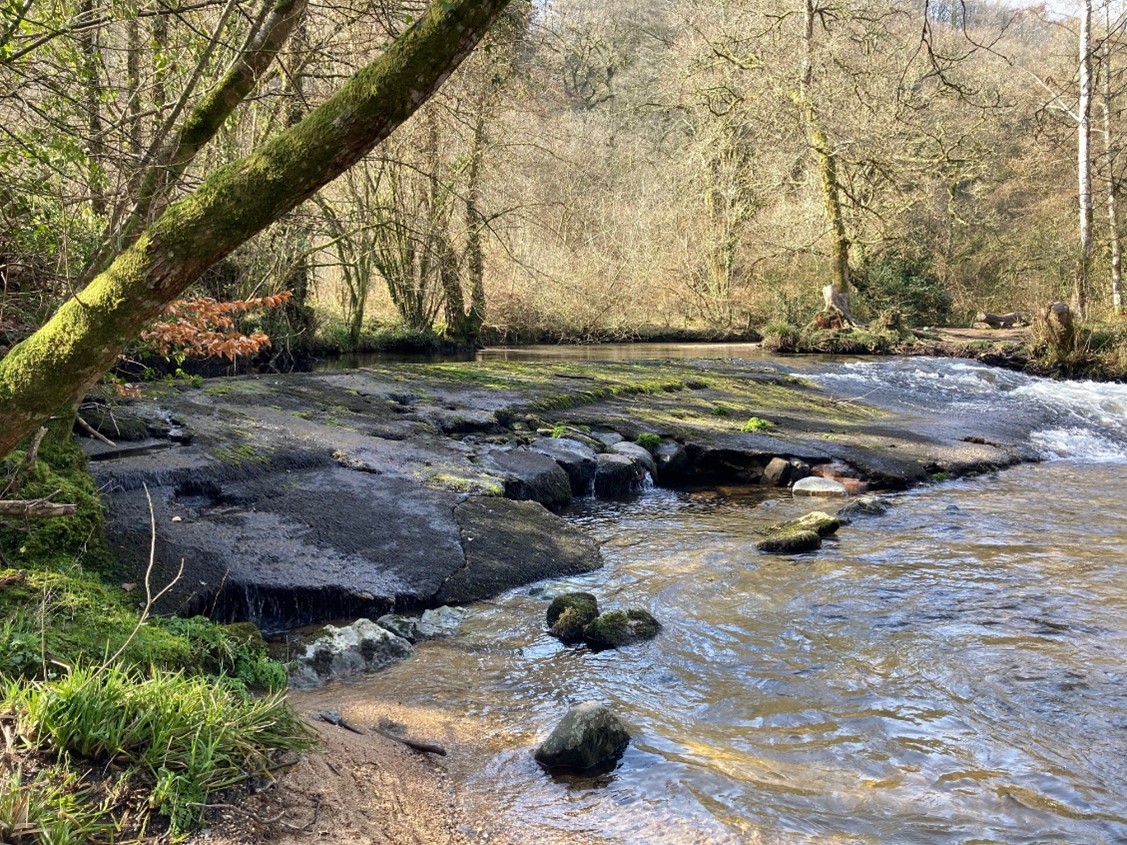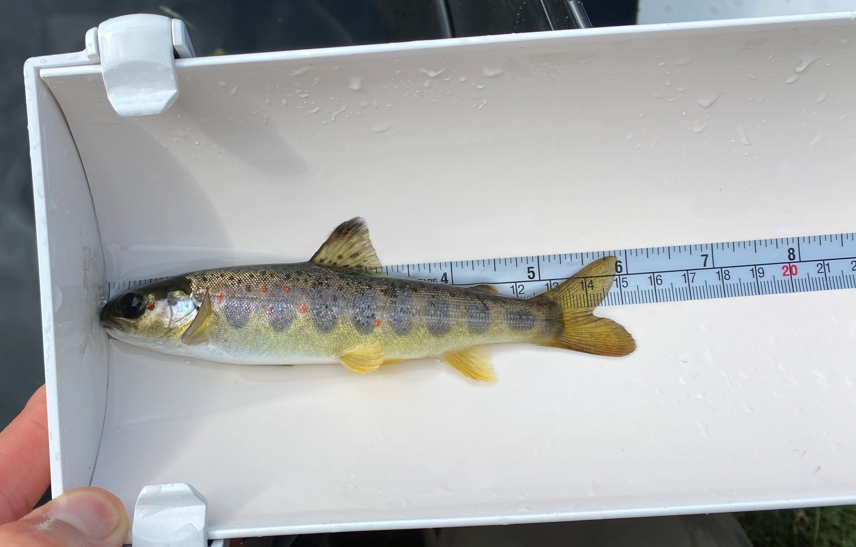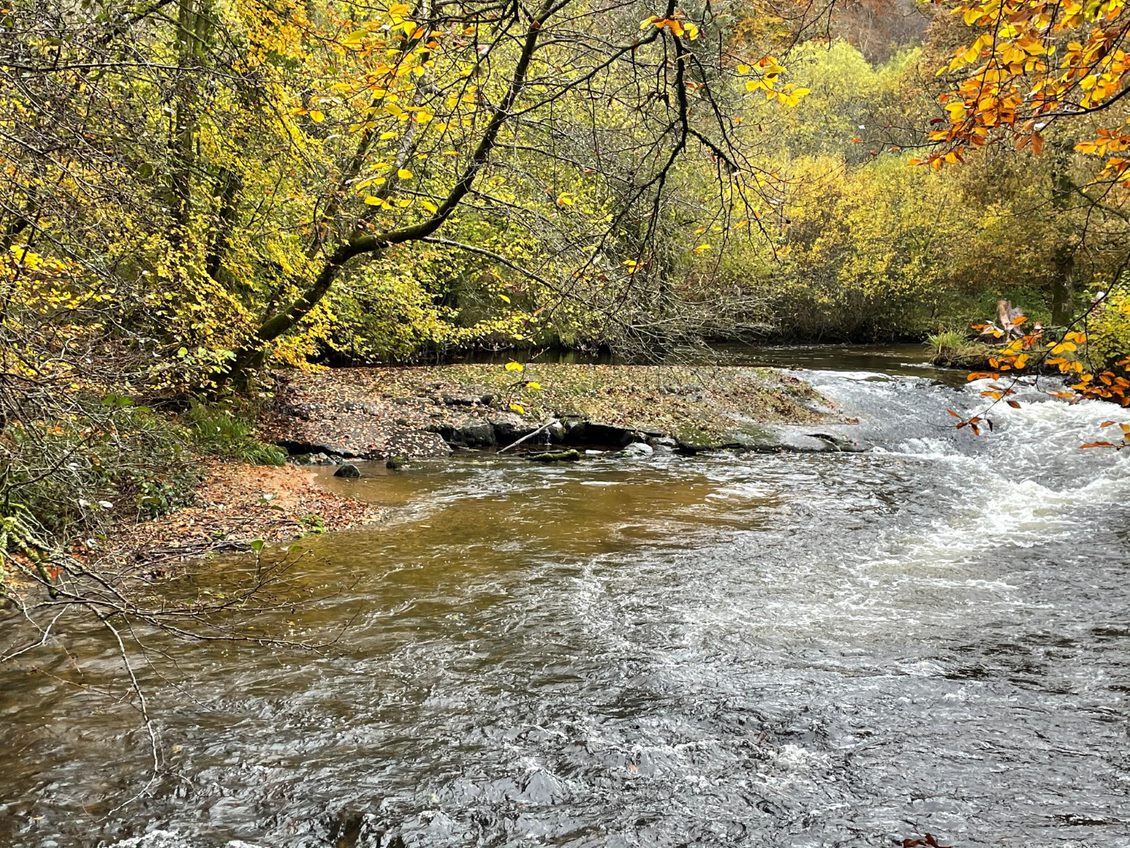 Did you know?
The weir was once repaired using stones from the old tramway
Migration from the sea upstream is a crucial part of a salmon's life cycle. However, human made structures such as weirs present a major obstacle to fish attempting to travel upstream to spawn. Historically, thriving fish populations meant that barriers had a discernible impact on recruitment.
Yet today, migratory freshwater fish populations are at breaking point. Factors that have contributed to their decline include poor water quality, climate change, land-use changes and over-exploitation.
This infographic depicts how the facilitation of fish passage and management strategies could improve the outlook for this species by improving and expanding available habitat.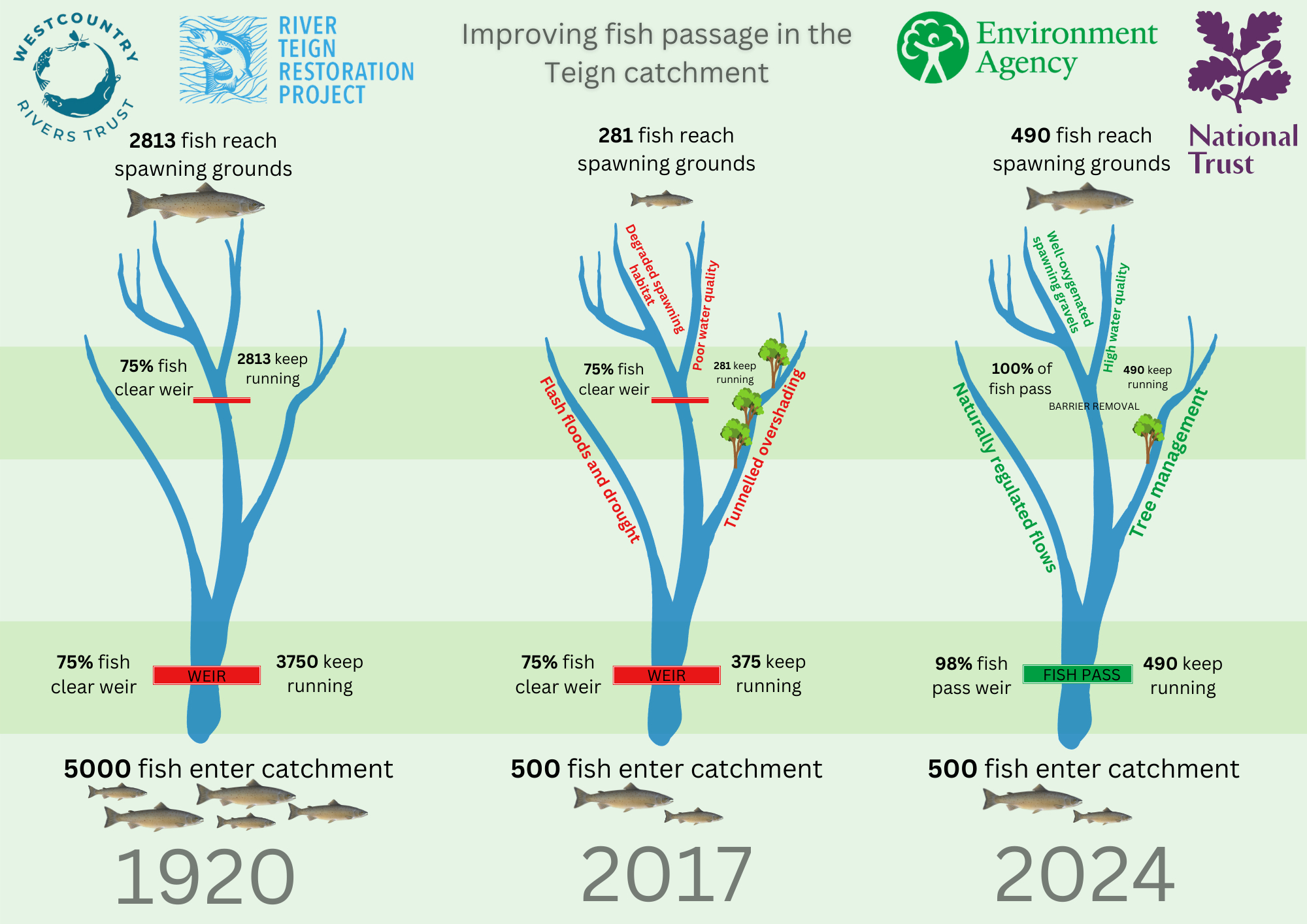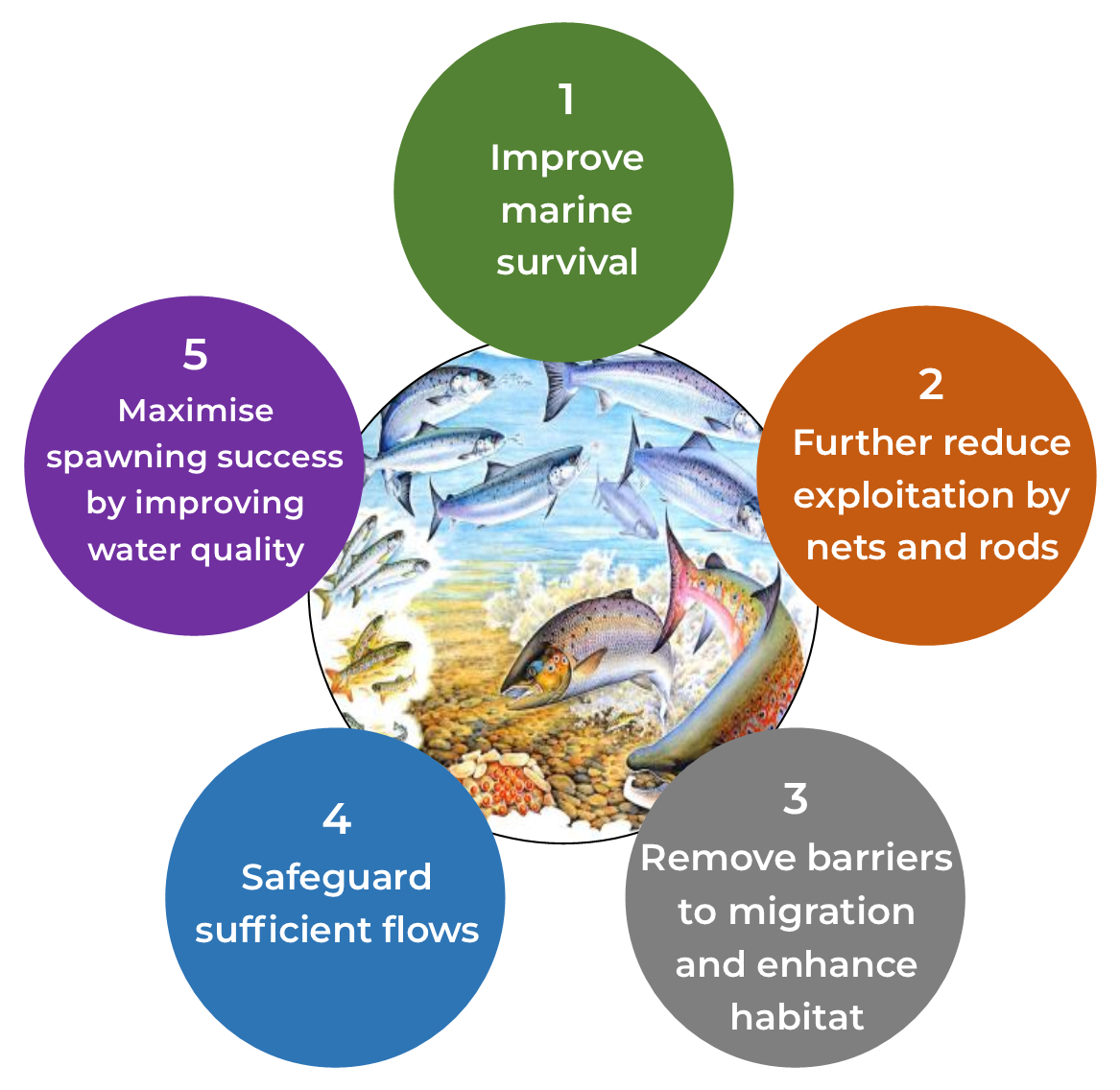 This infographic portrays the 'Salmon five point approach' launched by the Environment Agency following a 2014 assessment of the UK's salmon stocks, which estimated a 50% decrease in just 20 years.
The Parke river restoration project will address points 3, 4 and 5 of the approach by allowing fish passage past the weir, restoring the longitudinal connectivity and facilitating a natural flow regime with associated benefits for biodiversity.
Why do weirs pose a problem for fish migration?
Fish and weirs have co-existed for hundreds of years, right?
True. However, times have changed.
In the past 50 years migratory fish populations have declined globally by an average of 76%, with a decline in Europe of 93%.
Climate change is causing more extreme drought and flood events, affecting river flows and limiting the flow windows that enable passage. 
Cumulative impacts by multiple weirs magnify effects, can significantly reduce fish reaching the most productive habitat at the top of the catchment, and also have complex impacts on population genetics.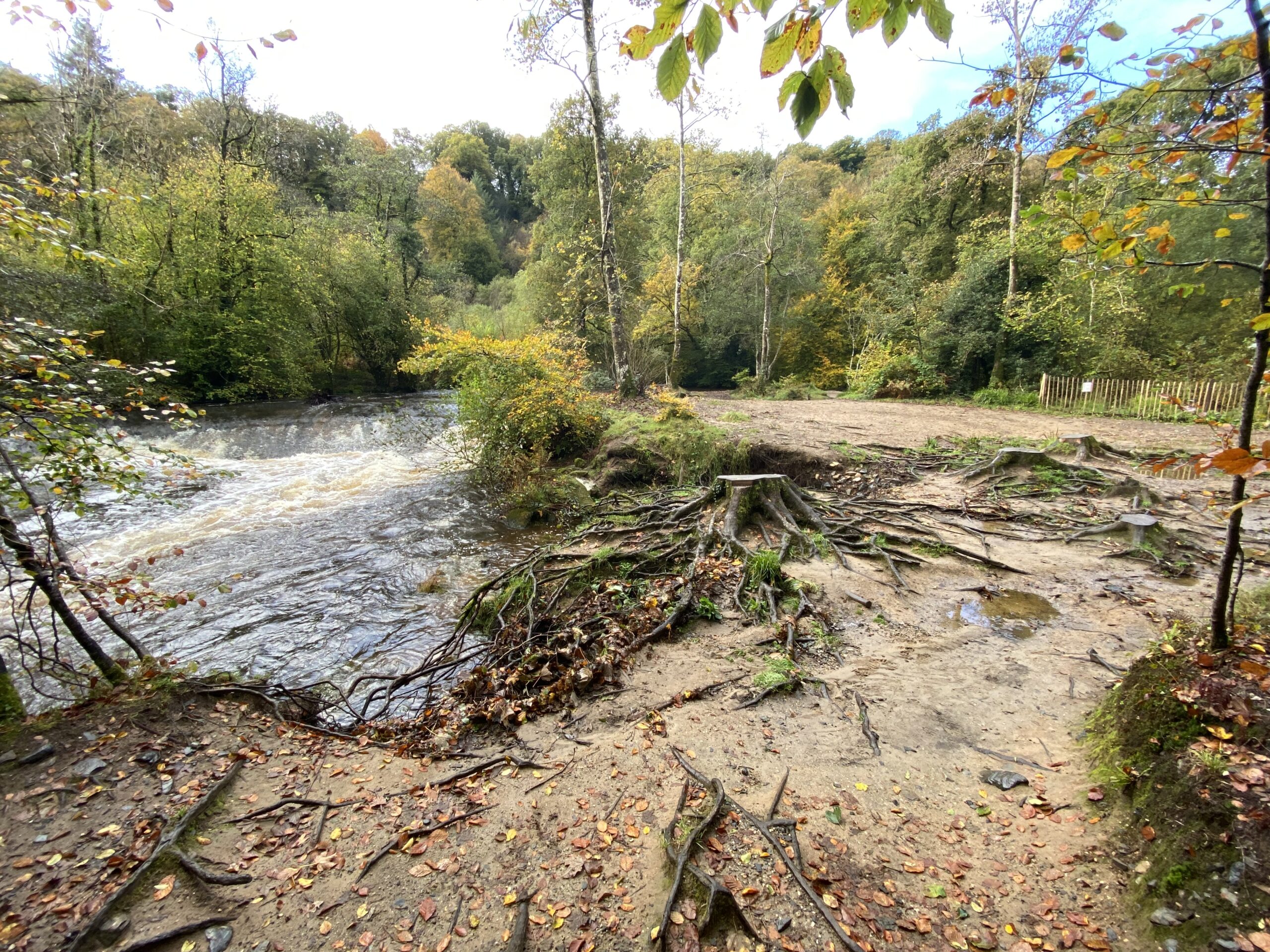 For further information
on how weirs impact fish populations, please contact our project officer Sam Baycock via
[email protected]
 or Devon River & Fisheries Manager Adrian Dowding via
[email protected]
Keep up with the Project: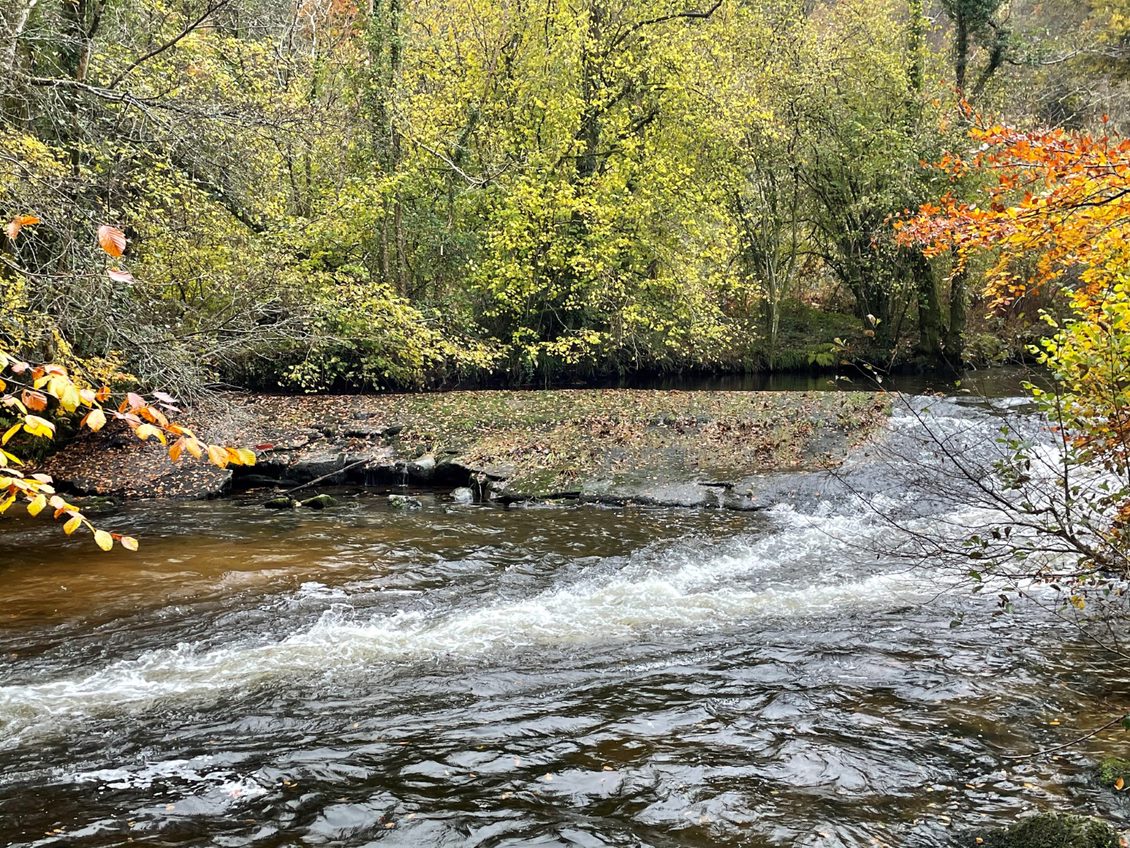 How can fish migration be improved at a weir?
The Partnership will work together and with stakeholders to try and identify a solution that will work for everyone.
These solutions include:
Removal of a weir if appropriate
Nature-like option, in-river or bypass
Technical fish pass (e.g. Larinier fishway)
Fish passage easement (e.g. pre-barrages)
To learn more about bespoke fish passage solutions, including successful projects delivered by WRT and project partners, please get in touch or visit our Strategic Exe Weirs page as we tackle multiple barriers in the Exe catchment.
Each project site is subject to a standardised options appraisal process that includes all stakeholders from the beginning of a project, ensuring a workable and effective solution can be developed and delivered.
Working in partnership for the River Teign.