Meet Annabel, Annabel is a member of the Trust's farm advisory team,  specialising in soil and nutrient management. She also advises farmers on fencing watercourses and improving yard infrastructure in the Dart Catchment.
"My Job is a combination of meeting very interesting people and being in beautiful places."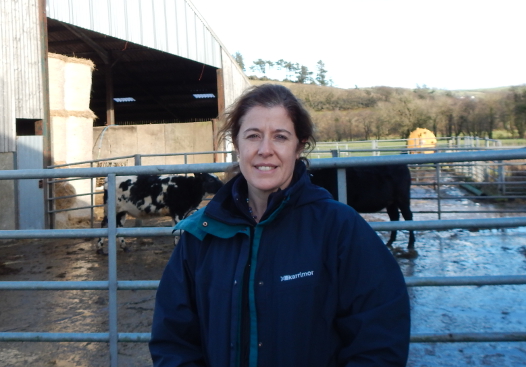 Annabel Martin
Land Management Officer
Q: How would you describe your role here at WRT?
A: My Role is to engage Famers to want to improve water quality, I look at all aspects of their farm to see if they can reduce risk and improve practices and infrastructure so they can contribute cleaner water into the river. I started off working for FWAG in 2002, and from the off it was Diffuse Pollution I was looking at, with Countryside stewardship schemes as well. I was originally interested in managing nature reserves but it was sustainable agriculture that really caught my interest during my degree at Seale Hayne.
Q: In your opinion, what is the biggest issue facing rivers?
A: Extreme weather events. We seem to be getting more and more of these incredibly wet periods where you get excessive run off, and that's washing sediment and chemicals off the land into the rivers. And farms that don't normally experience problems do experience problems, like last winter.
Q: So you spend a lot of your time delivering interventions on farms, what is the one easy win that all land users can do?
A: soil sampling! Making sure that fields have the optimum balance of nutrients and pH so you don't end up overusing fertilisers and other chemicals. That and getting an external opinion really. Farm advisors can come out and produce a farm plan that looks at everything. From how you store manure and slurry to what you are doing with your soil, if it's compacted we can give advice on what to do and offer help, perhaps borrow an aerator or soil slitter. We also offer free soil sampling and we will interpret the results. We also look at any areas that provide important habitats for species such as horseshoe bats or freshwater pearl mussels and give advice on how to manage them for the benefit of these species.
Q: what are the biggest challenges you face in your role?
A: Time! And lack of central data, we never have a map of every farm in every catchment so we don't always know who is farming which piece of land. And I suppose lack of regulation. Although there are regulations, they are not very well enforced. So the people that choose not to engage with projects but cause problems continue to cause these problems, and we have no way of winkling them out
Q: what is the strangest thing you have seen or done in your time here at WRT?
A: one of my funniest visits was getting towed around a farm behind a tiny Ford tractor, unfortunately the farmer was elderly and couldn't walk very well, so he hitched up a little wagon for me to ride in (like a large wheel-barrow), he sat on the tractor whilst I got towed around so slowly I would have been faster walking!
Q: where is your favourite river spot?
A: ooh it would have to be the River Dart. The stretch between Dartmeet and Newbridge, it's a heavenly place.
Q: ok so last Question, what do you love most about your job?
A: It's a combination of meeting very interesting people and being in beautiful places.