Our UST 3 Successes so far
The Covid-19 pandemic has undoubtably been very challenging for everyone and we have been unable to deliver workshops or have chats over a cuppa, BUT it has not stopped us getting out and helping farmers and landowners with managing their land.

Here is a taste of some of the projects we have been working on with Westcountry farmers during the first year of UST 3…
Soil Carbon Trail – Lower Otter
During the first year of UST 3 we have purchased a Simba Freeflow drill for use on a soil carbon trial by a farmer on the lower Otter. The farmer has been using the drill for conservation tillage, that also works with catch crops, to improve nutrient retention and improve soil organic matter (SOM).
This will limit soil disturbance, maintain soil moisture, reduce carbon losses, and retain nutrients. Regular monitoring is being carried out by us to assess progress, with additional monitoring as part of an academic study. Feedback has been very positive so far:
"The Freeflow drill – I love it, it's great,"
"Everything in at the right depth, into moisture and well covered." Farmer on the Otter.
Ponds & wetland scrapes – Exe
A farmer on the Exe received grant funding for the excavation of new ponds and wetland scrapes, restoration of existing ponds, and the installation of woody debris dams. Combined these features will help to slow the flow of water through farmland and reduce localized erosion and flooding. Once established the ponds and scrapes will also provide habitat for wildlife on farm.
Rainwater harvesting – Tamar
A grant has been awarded to concrete a small area of yard and install a rainwater harvesting system to a new cattle shed on a farm in the Tamar catchment. 
Using 20 m3 containers like this one, will capture enough clean roof water to provide the farm with all the water they require for cleaning their poultry houses all year for free.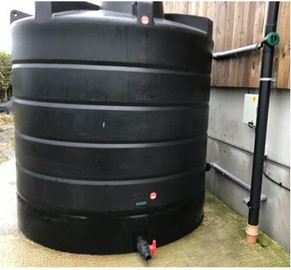 Post-harvest scheme – Fowey
Grant funding was used to commission a local agricultural contractor on the Fowey to rough plough/cultivate fields that were to be left bare during the winter with no post-harvest plan.
This was typically the bottom third of a harvested maize field, strategic cultivated strips along the contour, or a substantial rough plough margin at locations identified as high risk for surface run-off.
The machinery used depended heavily on soil type, location, and weather. Our experienced Senior farm Advisor worked closely with the contractor to locate high risk areas and determine the best approach for the site.