RIVER ACADEMY
Learn all about rivers: form & function, water cycle, wildlife, conservation & environmental management

Water science & the 'Water Cycle'
Water is life – all life on Earth needs water to survive. Seas and oceans contain 97% of the world's water, and ice holds 2%. That leaves just 1 per cent of the world's water as fresh water on land or in the air. This water is recycled again and again through the process of evaporation, condensation and water transfers such as surface run-off.
Water Cycle Education
Download our 'Geography & Science' Education Pack about the Water Cycle full of classroom and fieldwork activities here – click the image below.
Drinking Water
Find out all about how your drinking water is produced at South West Water's Pynes Water Treatment Works just a few miles north of Exeter.
Treating Waste Water
Learn how our waste water (sewage) is treated and then returned safely back to the environment in this Key Stage 2 South West Water video.

Water Sensitive Farming
Our rural landscapes are vital for producing the food we all need, but we how do we ensure that this is achieved without compromising all of the other benefits we get from the land around us. The answer is to work with farmers to make their businesses more resilient, sustainable and profitable while promoting 'water sensitive farming' practice that are less damaging to the environment. 
Upstream Thinking: 2015-2020
South West Water's film about their flagship catchment management initiative: Upstream Thinking, which is now in its second 5-year phase of delivery.
Interview: WRT Farm Advisor
Watch WRT's Senior Farm Advisor, Ross Cherrington, being interviewed about delivery of on-farm advice to improve the farm business and protect the environment.
Win-win for People & Wildlife
Working with farmers to protect water quality reduces the cost of drinking water and improves the health of the river, benefiting farmers, people and wildlife.
Down on the Farm
Two Upstream Thinking Project partners, Devon Wildlife Trust and WRT have been working on a farm near Roadford Lake in West Devon.
Bid for Clean Water
WRT, SWW and the Uni of East Anglia, show how farmers, water company customers and the environment benefit from farm improvements on the River Fowey.

Rivers: Form & Function
Rivers (and estuaries, lakes and the sea) are a vital part of the world around us and we need to understand how they structured and how they function. These fascinating places are steeped in our history, they embody our natural heritage and will play a vital role in the future health and prosperity of every one of us.
Rivers Bring Water to Life
Rivers are home to spectacular and precious wildlife and form a key part of our rich natural heritage…They are also great places for us to discover, interact with and enjoy the natural world around us.
Learn About Flooding
Explore our simple guide to flooding which summarises why it occurs and what can be done about it using an example from the village of Millbrook in Cornwall. Click below to view.

The Power of Data & Evidence
Monitoring data, maps, environmental models, evidence and other data visualisations are a powerful and vital visual communication device for all environmental practitioners whether they are engaged in a research, regulatory, influencing or reporting role. Find out here how data and evidence are being used to inform environmental protection and restoration.
Introduction to Spatial Data & GIS
A GIS provide a powerful and flexible tool for the creation and management of spatial data, the presentation of accurate and effective maps, and for the production of spatial evidence.
Data & Evidence for Partnership Working
Nick Paling from WRT's Evidence & Engagement Team gives an overview of how data and evidence can be used to inform and facilitate participatory catchment planning in catchment partnerships.
Ecosystem Services & Spatial Planning
This short film by the Westcountry Rivers Trust explains the importance of working together in partnership and assessing data and evidence collaboratively to deliver landscape-scale spatial planning.
Measuring Improvements in Water Quality
Animation exploring how the quality of water in rivers relates to the cost of drinking water treatment, how to find where water quality in degraded and how we evaluate measures to protect it.
Chemcatcher™ Passive Sampling
Science in Action! Not professionally made but hopefully informative, this is a film about our first foray with our novel Chemcatcher™ passive samplers on the River Fowey in Cornwall.
SCIMAP in Water Sensitive Urban Design
Video of presentation given by Nick Paling at the SCIMAP User Group 2016 on our recent use of the SCIMAP modelling framework to inform Water Sensitive Urban Design. MORE INFO.
Water Quality Risk Assessments
Angela Fells from our Evidence & Engagement Team describes how we use a 'weight of evidence' approach for undertaking catchment-wide pollution risk and source apportionment assessments.
Rapid Remote Sensing
WRT has been working with the Uni of Exeter to trial rapid, low-cost remote sensing technologies (with a specially developed smartphone app, a drone and Structure-from-Motion software).

Fish & Other River Wildlife
The rivers of the Westcountry have always been a stronghold for iconic wildlife such as otters, dippers, trout and mayflies. But now, as the health of our rivers and estuaries has begun to improve, many other animals and plants are also returning to our countryside, parks and gardens in ever greater numbers.
Learn About River Wildlife
Learn about the wildlife in your river with our handy invertebrate identification guide. Download the guide by CLICKING HERE or click the image below.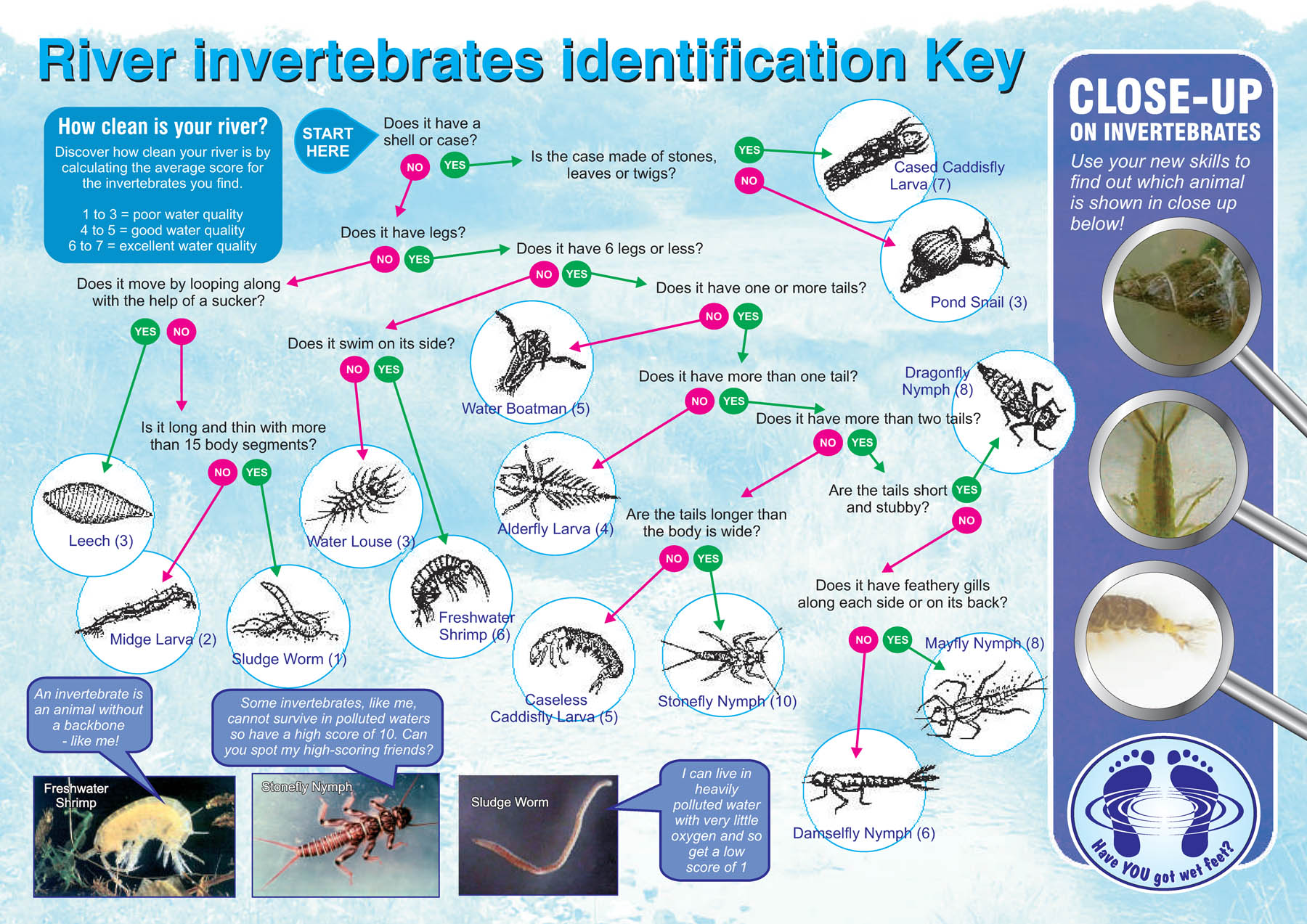 Salmon in the Classroom
Pupils at Culmstock Primary School in Devon recently welcomed some unusually fishy companions to their classroom and helped conserve one of our most iconic species of fish, the Atlantic salmon.
Eradicating Himalayan Balsam
A short video explaining the problem posed to our rivers and stream in the UK by the invasive non-native plant, Himalayan balsam. It also explains how to deal with it if you find some growing.