Farmers across the South West can now access free and confidential advice to help improve water quality and boost the health of their livestock and crops. Over the next five years, the Westcountry Rivers Trust and partners are aiming to give 750 farmers practical tips on how to benefit from best practice, protect water quality and reduce the risk of pollutants, especially chemicals that enter our rivers.
Through the multi-award-winning Upstream Thinking project, which is funded by South West Water, farmers in priority locations, with land connected to rivers above water abstraction points, can potentially also apply for grants to fund improvement works.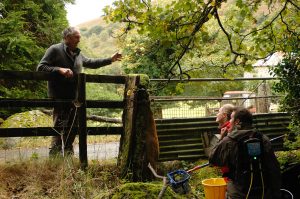 The Westcountry Rivers Trust's network of catchment advisors will each work with their local farms based near rivers from the Exe on the border of Devon and Somerset down to Cornwall. After conducting a full review of a farm, they will advise farmers on the value of changes, such as introducing watercourse fencing or livestock drinking points, improving guttering and roofing to separate clean and dirty water, upgrading dung stores and slurry pits or better soil management. The aim is to find solutions that not only reduce the risk of pollutants entering the water course, but also make the farm more efficient and more productive.
Upstream Thinking is based on the principle that agricultural practices have a huge impact on water quality.  The aim is to reduce the amount of unwanted substances in river water, which in turn helps to control the cost of chemicals and energy needed to turn raw water into high quality tap water. It is a proactive approach to solving problems to bring about improved water quality, benefits to wildlife and improved efficiencies for farms plus helping to build in greater future resilience.
Hazel Kendall, Head of Land Management at the Westcountry Rivers Trust said: "As we face more extreme or unpredictable weather events, farmers have an increasingly difficult job to manage their land. With flooding becoming a frequent event, it is more important than ever that we protect our crucial resources such as soil and water.  Contaminants including pesticides are more likely than ever to get carried into the rivers and farmers need simple, practical solutions as they are under increased pressure."
"Through Upstream Thinking, the Westcountry Rivers Trust can give free, confidential advice that will make a real difference. We're here to offer a fresh perspective and win-win solutions that not only benefit the local river but also help make the farmer's life easier, and crucially save money."
To find out if your farm could benefit from the advice being offered through Upstream Thinking, please contact: 01579 372140 or [email protected]